CrossFit Ballwin – CrossFit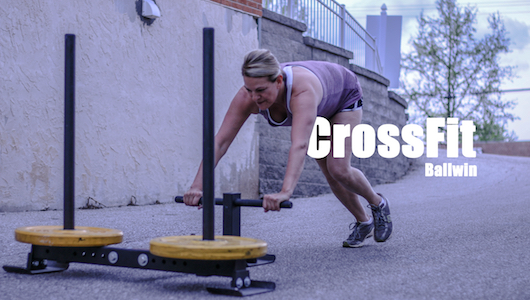 Jeannie Younger
Warm-up
Warm Up # 8 (Shuttle) (No Measure)
**Shuttle Distance Set @ 30 ft.

**Reps are down & back.
3 x Light Jog

2 x Crossover

1 x Walking Lunge

1 x Crocodile Walk

1 x Inch Worm

2 x Crossover

3 x Light Jog
Strength & Skill
For 16 minutes, alternate between PRIME 1 on EVEN min., & PRIME 2 on ODD min.

*If you're experienced with Split Jerks, work those. For the new athletes, work Push Jerks. Intention is to start building confidence in the second "dip" of the Jerk.

*Jerk movements can be caught in the "Power" position.

*PRIME 1, cleans are caught in the squat.
PRIM1: Split Jerk (Set of 2 Reps every EVEN min)
PRIM1: Push Jerk (Set of 2 every EVEN min.)
PRIM2: Clean (Sets of 3 every ODD min.)
Metcon
Metcon (AMRAP – Rounds and Reps)
Ascending Ladder 11:

5 Push-Ups

10 Double Unders

10 Push-Ups

20 Doubles Unders

15 Push-Ups

30 Double Unders

20 Push-Ups

40 Double Unders

25 Push-Ups

50 Double Unders

30 Push-Ups

60 Double Unders

35 Push-Ups

70 Double Unders

….Continue increasing x5 PU's & x10 DU's until time