CrossFit Ballwin – CrossFit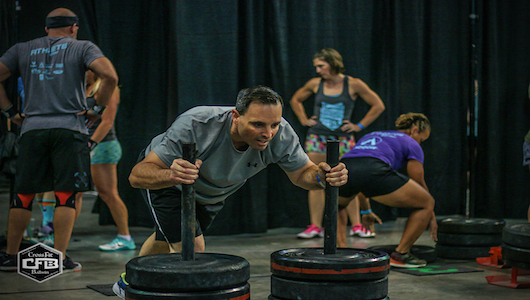 Rob Zarrella
Warm-up
Warm Up #5 (Row) (No Measure)
Complete 2 rounds
Row 300m

15/15 x Step Ups

10 x Bent Rows

10 x Push Ups

10 x Hang Cleans

2/2 x Turkish Getup
Strength & Skill
20 EMOM

Training value is speed work unders destress. Recovery time is based on the time it takes to complete the Shuttle Sprints.
EVEN: Med Ball Wall Sit
ODD: 3m, 6m, & 9m Shuttle Sprints
Metcon
Metcon (AMRAP – Rounds and Reps)
11 Ascending Ladder:

1 Thrusters

1 Strict Ring Rows*

2 Thrusters

2 Strict Ring Rows*

3 Thrusters

3 Strict Ring Rows*

4 Thrusters

4 Strict Ring Rows*

….so on, increasing by 1 rep per round until time expires.
Prescription:

Rx+ 135/95 – Muscle Ups

Rx 95/65

Sc 75/55
*To determine proper position, athlete must lay under rings with arms extended vertically. Rings should be adjust 3″ above finger tip reach.

*Body must remain in solid position while performing reps.