CrossFit Ballwin – CrossFit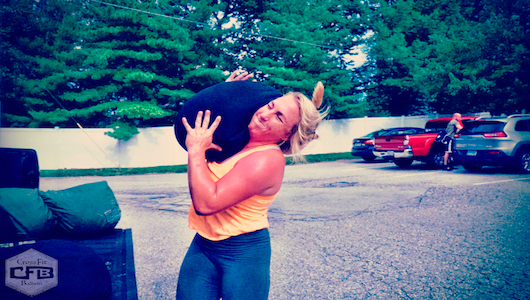 Casey Cromwell
Warm-up
General Movements:

Quad Stretch

Solider Kicks

Cradle Stretch

Side Lunge

Walking Samson

Walking Spiderman

Side Shuffle (facing in)

Side Shuffle (facing out)

Straight Leg Bear Crawl

High Knees

Butt Kickers
"Barbell Warm-Up"

5 Good Mornings

5 Back Squats

5 Elbow Rotations

5 Strict Presses

5 Stiff-Legged Deadlifts

5 Front Squats
Mobility
Front Rack Stretch – 1:00

Pigeon Pose – 1:00 each side
Strength & Skill
Movement Review

Cleans:

1) Establish & Hold Receiving Position

2) High Hang Power Clean

3) Hang Power Clean – Knees

4) Hang Power Clean – Mid Shin
Jerk:

1) Establish & Hold Receiving Position

2) Strict Press + Push Press

3) Push Jerk

4) Full Clean & Jerk
Double Unders:

1) Short Jump Single Unders

2) Higher Single Unders

3) Double Thigh Tap Jump without Rope

4) Double Unders or Double Under Practice
Metcon
*Lighter barbell today – something that could be cycled for 15+ repetitions when completely fresh.

*Look for a variation on the rope that allows athletes to keep moving through consistent sets.

*Running modification options: Cal Bike 25/20

*Today's 400m is going to be the 200m (building back) twice. Building power on the hill climb.
Metcon (Time)
3 Rounds:

400 Meter Run

15 Clean and Jerks (115/80)

75 Double Unders