CrossFit Ballwin – CrossFit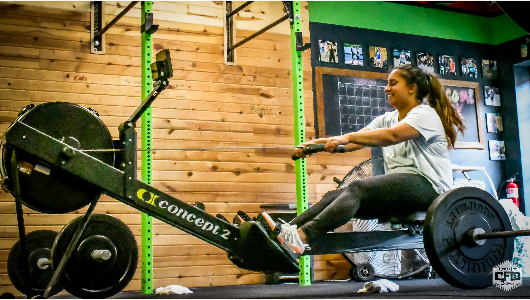 Daily Mindset
"The only thing that is different about me, is that I'm not afraid to die on a treadmill." -Will Smith
It's not about the treadmill. 
It's what the treadmill stands for.
Will Smith is not a competitive athlete. If he runs 2, 3, 10 miles… he's still probably going to be highly successful in his career.
Probably.
But that's not why he is, who he is. Not defined by what he's doing, but instead by how he is doing it.
Full heart, full commitment, full effort. Wherever we go.
Warm-up
3 Sets

30 Seconds Each

PVC Pass Throughs

Box Step-ups

Row

Get More Narrow on PVC & Fast on Row with Each Set
Overhead Squat Biased Barbell Warmup

5 Good Mornings

5 Back Squats

5 Elbow Rotations

5 Snatch Grip Behind the Neck Presses

5 Snatch Grip Romanian Deadlifts

5 Overhead Squats
Mobility
Child's Pose on Box: 45 Seconds

Barbell Forearm Smash: 45 Seconds Each Side
Strength & Skill
Review "The Jump" in each movement.
Metcon
"Knock on Wood" (Time)
3 Rounds For Time [25 Minute Cap]:

30 Power Snatches (75/55)

30 Box Jump Overs (24″/20″)

30 Pull-ups

30/24 Calorie Row
After Party
Power Snatch Waves

12 Sets of 1

Set 1: 79%

Set 2: 82%

Set 3: 85%

Set 4: 82%

Set 5: 85%

Set 6: 88%

Set 7: 85%

Set 8: 88%

Set 9: 91%

Sets 10-12: 88%

All Sets Based of 1RM Power Snatch

Rest as Needed Between Sets
Modifications
30 POWER SNATCHES

30 Single Dumbbell Power Snatches

30 Slamballs

Add 2nd Set of 30 Box Jumps After Pull-ups (If No Weight)
30 BOX JUMP OVERS

30 Jumping Lunges
30 PULL-UPS

Reduce Reps

15 Strict Pull-ups

30 Banded Pull-ups

30 Ring Rows

30 Inverted Bar Rows

15 Renegade Rows

30 Dumbbell Rows From Plank Position (15 Each Side)

30 Barbell Bent Over Rows

30 Double Dumbbell Bent Over Rows

30 Single Dumbbell Bent Over Rows (15 Each)
30/24 CALORIE ROW

400 Meter Ski Erg

25/18 Calorie Bike

30 Shuttle Runs [10 Meters]