CrossFit Ballwin – CrossFit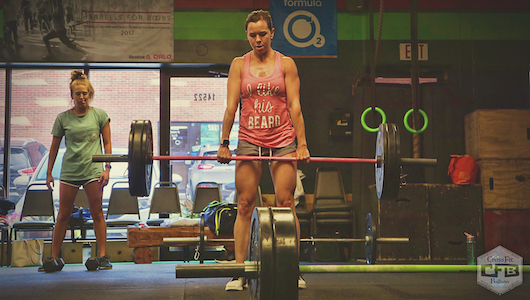 Shannon Moncheski
Warm-up
200 Meter Run

50 ft. Crab Walk

50 ft. Straight Leg Bear Crawl

then…
5 Walkouts, 10 Active Spidermans with T-Rotation

4 Walkouts, 8 Active Spidermans with T-Rotation

3 Walkouts, 6 Active Spidermans with T-Rotation

2 Walkouts, 4 Active Spidermans with T-Rotation

1 Walkout, 2 Active Spidermans with T-Rotation
Barbell Warm-up:

5 Good Mornings


5 Back Squats


5 Elbow Rotations


5 Strict Presses


5 Stiff-Legged Deadlifts


5 Front Squats
Mobility
1. Banded Shoulder Distraction – 1:00 Each Side

2. Banded Pec Stretch – 1:00 Each Side
Strength & Skill
Bench Press:

1. Hands

2. Shoulders

3. Glutes

4. Feet

5. Start Postion

6. On the Way Down

7. On the Way Up
Pull-Ups:

1. Press Down on the Bar

2. Hollow Body
Metcon
While the workout calls for bodyweight bench press and strict pull-ups, picking movements athletes could do 12-15 repetitions when fresh will allow them to get the most out of this workout. After they complete as many bench press reps as they can, they will immediately move to the pull-up bar for max repetitions before resting three minutes. Score at the end of the five rounds is total repetitions combined.
Metcon (AMRAP – Reps)
5 Rounds:

Max Bodyweight Bench Press

Max Strict Pull-Ups
**Rest 3:00 between rounds.
1000m Row (Time)
Max Effort 1000m Row
If you finish the metcon early, complete a 1000m row.