CrossFit Ballwin – CrossFit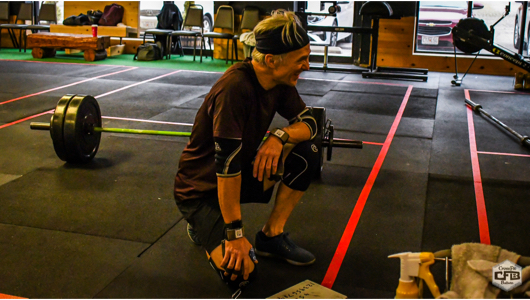 Daily Mindset
"Your actions speak so loudly that I can't hear what you're saying."

It's not about what we talk about, but what we tolerate.

When we think of our greatest role models, those we truly look up to in life, there's a consistent commonality we'll notice… their action under adversity. They achieved something great, under incredibly hard circumstances. They overcame a specific challenge in their darkest hour. And for that, we remember them.

Our identity isn't shaped by the good times… but the challenging ones. In those moments, it'll never be about what we say, but what we do.
Warm-up
1 Minute Each

Easy Row

Easy Single Unders
30 Seconds Each

Lateral Squats

Arm Circles (15 Forward + 15 Back)

Wall Squats

Down Dog

Air Squats

Double Taps
Barbell Warmup

5 Good Mornings

5 Back Squats

5 Elbow Rotations

5 Strict Press & Reach

5 Romanian Deadlifts

5 Front Squats
Mobility
Barbell Ankle Stretch: 60 Seconds

Front Rack Stretch: 45 Seconds

Forearms Stretch: 30 Seconds
Strength & Skill
Review "Squeeze the Legs" for each movement.
Metcon
"That Escalated Quickly" (Time)
For Time:

3 Rounds:

15 Front Squats (95/65)

25 Double Unders
1,000/800 Meter Row
3 Rounds:

12 Thrusters (95/65)

25 Double Unders
1,000/800 Meter Row
3 Rounds:

9 Hang Squat Clean Thrusters (95/65)

25 Double Unders
"That Escalated Quickly" — Beef'd Up (Time)
For Time:

3 Rounds:

15 Front Squats (135/95)

30 Double Unders
1,000/800 Meter Row
3 Rounds:

12 Thrusters (115/85)

30 Double Unders
1,000/800 Meter Row
3 Rounds:

9 Hang Squat Clean Thrusters (95/65)

30 Double Unders
After Party
Static Position Holds

Accumulate The Following Totals:

A) 2:00 Bottom of Front Squat (95/65)

B) 2:00 Barbell Overhead (75/55)

C) 2:00 Bottom of Overhead Squat (45/35)
Modifications
FRONT SQUAT

Double Dumbbell Front Squats

Single Arm Dumbbell Front Squats

Dumbbell Goblet Squats

Odd Object Front Squats

Wallballs

Air Squats

Jumping Air Squats
DOUBLE UNDERS

Reduce Reps

40 Single Unders

30 Second Time Caps

25 Double Taps

40 Line Hops

25 Over-and-Back Dumbbell Hops
ROW

800 Meter Run

800/600 Meter Ski Erg

50/35 Calorie Bike

60 Shuttle Runs [10 Meters]