CrossFit Ballwin – CrossFit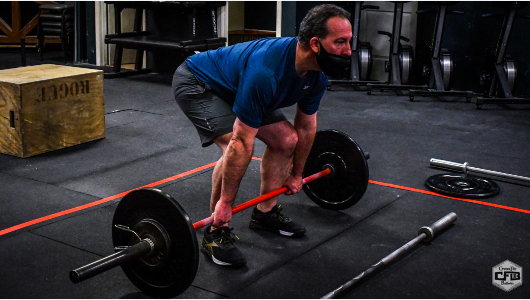 Daily Mindset
"You've got to get up every morning with determination if you're going to go to bed with satisfaction."" – George Lorimer

"Win the morning, win the day" is something we've all heard once or twice before.

It's less however about winning the morning, and more about establishing the right habits. The most successful in life routinely draw back to a core staple of set daily habits.

Write a short list of healthy habits you believe push you forward. It could be reading, journaling, "no phone hours", or anything in between. Where consistency is king, discipline is freedom.
Warm-up
30 Seconds Each

Inchworms to Push-up

Up Dog

Shoulder Taps

Arch Hold

Hollow Hold

Straight Leg Sit-ups

Glute Bridges

Single Leg Glute Bridges (Right)

Single Leg Glute Bridges (Right)

Glute Bridge Walkouts

Wall Squats
Barbell Warmup

5 Good Mornings

5 Back Squats

5 Elbow Rotations

5 Strict Press & Reach

5 Romanian Deadlifts

5 Front Squats
Strength & Skill
Review "Timing" for each movement.
Metcon
"Whatever's Left" (4 Rounds for reps)
AMRAP 5:

Buy-In: 400 Meter Run

Max Rounds With Time Remaining:

12 Thrusters (75/55)

12 Pull Ups
Rest 5 Minutes
AMRAP 5:

Buy-In: 400 Meter Run

Max Rounds With Time Remaining:

9 Thrusters (95/65)

9 Toes to Bar
Rest 5 Minutes
AMRAP 5:

Buy-In: 400 Meter Run

Max Rounds With Time Remaining:

6 Thrusters (115/85)

6 Chest to Bar Pull-ups
Rest 5 Minutes
AMRAP 5:

Buy-In: 400 Meter Run

Max Rounds With Time Remaining:

3 Thrusters (135/95)

3 Bar Muscle-ups
After Party
Front Squats

5 Sets:

1 Tempo Pausing Front Squat

1 Pausing Front Squat

2 Front Squats

Set 1: 55% 1RM Front Squat

Set 2: 60% 1RM Front Squat

Set 3: 65% 1RM Front Squat

Sets 4-5: 65-75% 1RM Front Squat
Modifications
400 METER RUN

1,000/800 Meter Any Bike

400/300 Meter Ski

40 x 10 Meter Shuttles
THRUSTERS

Reduce Weights

Double Dumbbell

Single Dumbbell

Odd-Object Thrusters
TOES TO BAR

Knees To Chest

Toes As High As Possible

1/2 Reps Of Strict Toes To Bar

V-ups

GHD Sit-ups

Weighted Sit-ups
CHEST TO BAR PULL-UPS

Banded Chest To Bar Pull-ups

1/2 Reps Of Strict Chest To Bar Pull-ups

1/2 Reps Of Strict Pull-ups

Chin Over Bar Pull-ups

Banded Chin Over Bar Pull-ups

Ring Rows

Alternating Dumbbell Plank Rows
BAR MUSCLE-UPS

Banded Bar Muscle-ups

Chest To Bar Pull-ps

Jumping Bar Muscle-ups

Ring Muscle-ups

Chin Over Bar Pull-ups

Burpee Pull-ups

Double Dumbbell Snatches

Single Dumbbell Snatches