CrossFit Ballwin – CrossFit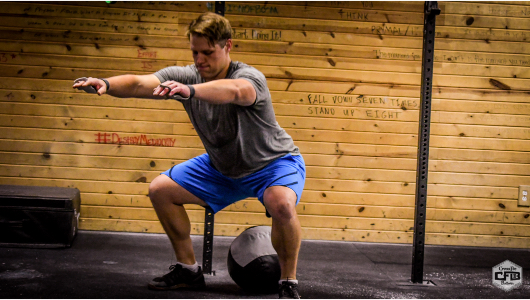 Daily Mindset
"Your actions speak so loudly that I can't hear what you're saying."

It's not about what we talk about, but what we tolerate.

When we think of our greatest role models, those we truly look up to in life, there's a consistent commonality we'll notice… their action under adversity. They achieved something great, under incredibly hard circumstances. They overcame a specific challenge in their darkest hour. And for that, we remember them.

Our identity isn't shaped by the good times… but the challenging ones. In those moments, it'll never be about what we say, but what we do.
Warm-up
1 Round:

1 Minute Row

1 Minute Down Dog

1 Minute Box Step-ups

1 Minute Kettlebell Deadlifts (30 Seconds Each Side)

1 Minute Row
Barbell Warmup

5 Good Mornings

5 Back Squats

5 Elbow Rotations

5 Strict Press & Reach

5 Romanian Deadlifts

5 Front Squats
Mobility
Pigeon Pose + Lat Reach: 45 Seconds Each Side

Drop Ankle Stretch: 30 Seconds Each Side
Strength & Skill
Review "Knees" for each movement.
Metcon
"Jumpsuit" (Time)
30-20-10:

Deadlifts (185/135)

Box Jumps (24″/20″)
Directly Into…
10-20-30:

Kettlebell Swings (53/35)

Row Calories
Rx+:

Deadlifts (225/155)

Box Jumps (30/24)

Kettlebell Swings (70/53)
After Party
Bike Conditioning

On the 2:00 x 3 Sets: 20/15 Calorie Bike

On the 1:30 x 4 Sets: 15/12 Calorie Bike

On the 1:00 x 5 Sets: 10/8 Calorie Bike
Modifications
DEADLIFTS

Equal Reps Double Dumbbell or Kettlebell Deadlifts

Equal Reps Single Dumbbell Deadlifts

Equal Rep Odd Object Deadlifts
BOX JUMPS

Equal Reps Jumping Lunges

Equal Reps Single Dumbbell Reverse Lunges
KETTLEBELL SWINGS

Equal Reps Single Arm Russian Dumbbell Swings

Equal Reps Odd Object Ground to Overhead
ROW (30-20-10)

Equal Calories Any Machine (To Maintain Rep Scheme)