CrossFit Ballwin – CrossFit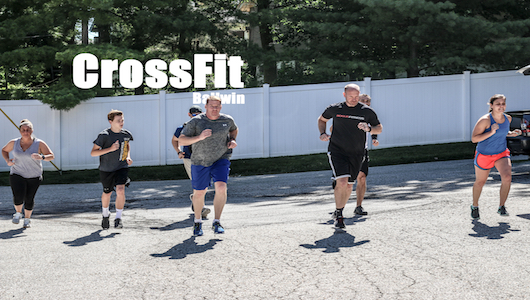 Back when it was warm.
Warm-up
Warm Up # 1 (Jump Rope) (No Measure)
2 Rounds of:
2 Min. Jump Rope

10 x Slow Deep Air Squats

10 x Slow Strict Press (PVC/Bar)

10 x Lunging Dislocates

10 x Sit Ups
Strength & Skill
16 Alternating EMOM
EVEN: Inverted Supine Row (8-10 Reps every EVEN Minute)
Bar Racked – To Chest

Rings – To Arm Pits
ODD: Deadlift Lift Off (1-2″ Hold) (6 Reps every ODD Minute )
Setup normal deadlift position, lift bar 1″ to 2″ off the ground & hold position for 5 seconds. This drill is to reinforce the proper contraction with breaking surface tension of the lift.
Focus on proper tension of hamstrings & back prior to the lift. Stay light & hold longer if needed.
Metcon
Metcon (Time)
For Time:

55 Burpees

55 Pull-ups

55/40 Calorie Row

55 Sit-Ups