CrossFit Ballwin – CrossFit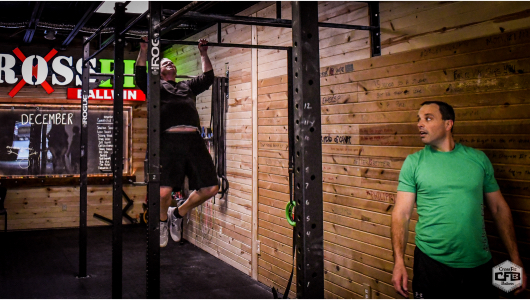 Daily Mindset
"Sometimes you will never know the value of a moment, until it becomes a memory." – Dr. Seuss

Words from a children's book, but words that reach far beyond.

It's easy to get caught up in "life".

To be so focused on chasing our next goal. Hunting that next accomplishment.

Dr. Seuss gives us a grounding thought: to value the present. To appreciate the moments in front of us, despite how tempting it may be to look ahead. In today's world, we're moving faster than ever. Planning more than ever. Forecasting more than ever. But in all the plans that we could possibly dream up, regardless of how big and audacious as they may be, do not create memories. Only today can.
Warm-up
2 Rounds

30 Seconds Row

30 Seconds Box Step-ups

30 Seconds Push-up to Down Dog

30 Seconds Wall Squats

30 Seconds PVC Pass Throughs
Barbell Warmup

5 Good Mornings

5 Back Squats

5 Elbow Rotations

5 Strict Press & Reach

5 Romanian Deadlifts

5 Front Squats
Mobility
Child's Pose on Box: 30 Seconds

Couch Stretch: 1 Minute Each Side
Strength & Skill
All Movements:

1. Finish the Drive
Gymnastics
10 EMOM Pull-Ups
Complete max pull-ups at the top of each minute for 10 minutes.
Metcon
"Sore Eyes" (AMRAP – Rounds and Reps)
AMRAP 20:

20 Wallballs (20/14)

20 Power Snatches (75/55)

20 Box Jumps (24″/20″)

20 Push Presses (75/55)

20/14 Calorie Row
"Sore Eyes" — Beef'd Up (AMRAP – Rounds and Reps)
AMRAP 20:

20 Wallballs (20/14)

20 Power Snatches (95/65)

20 Box Jumps (24″/20″)

20 Push Presses (95/65)

20/14 Calorie Row
*Difference – Increased Weight
After Party
Stamina Squats

On the Minute x 16 (8 Rounds):

Minute 1: 1 Front Squat

Minute 2: 2 Back Squats

Single Barbell Loaded @ 85-87% 1RM Front Squat
Modifications
WALLBALLS

20 Single Dumbbell Goblet Squats
POWER SNATCHES

20 Single Dumbbell Snatches
BOX JUMPS

20 Single Dumbbell Step Back Lunges
PUSH PRESSES

20 Single Dumbbell Push Press
ROW

14/10 Calorie Bike

14/10 Calorie Ski Erg

200 Meter Run

20 Shuttle Runs [10 Meters]