CrossFit Ballwin – CrossFit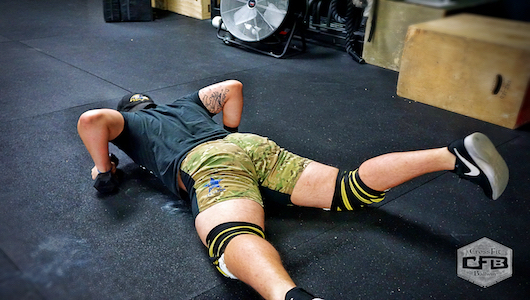 Zach & 1,400 Burpees. It's about time for another Trivia Night!
Warm-up
Warm Up #5 (Row) (No Measure)
Complete 2 rounds
Row 300m

15/15 x Step Ups

10 x Bent Rows

10 x Push Ups

10 x Hang Cleans

2/2 x Turkish Getup
Strength & Skill
Speed & Agility Ladder Dills (*Work in hand speed drill w/ Ladder)
Foot Work Drills
1. Ickey Shuffle

2. 5 Hops & Run

3. Crossover Run

4. Side Straddle Hop

5. Carioca

6. In & Out

7. Centipede

8. River Dance

9. Back & Forth

10. Single Leg Shuffle

11. Double Trouble
Metcon
Metcon (4 Rounds for reps)
Complete a total of 40 intervals with Tabata work capacity ratio. These four movements will be cycled 10 times before moving to the next movement.
-Foot Taps (on a 45# plate)

-Dynamic Push-Ups

-Jump Lunge

-Burpee Tuck Jumps
Each interval should be performed to max ability, however only track the total reps for each movement.