CrossFit Ballwin – CrossFit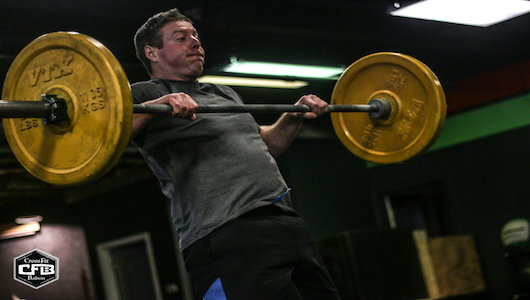 Stephen Ryman
Warm-up
Warm Up # 1 (Jump Rope) (No Measure)
2 Rounds of:
2 Min. Jump Rope

10 x Slow Deep Air Squats

10 x Slow Strict Press (PVC/Bar)

10 x Lunging Dislocates

10 x Sit Ups
Strength & Skill
Complete a set of Primary 1, then directly into Primary 2. Rest 60 sec between Super Sets.

*If you're working on the Kipping movement, then utilize that time during Primary 2.
PRIM1: DB Walking Lunge (5 sets of 10 reps (20 steps))
*DB in each hand, increasing weight each round

*Focus on proper form through each step
PRIM2: Weighted Pull-ups (5 sets of 3-5 reps, increasing weight)
PRIM2: Max Strict Pull-Ups (AMRAP – Reps)
Max Strict Pull-Ups w/o coming off bar
*5 Sets of MR

*If unable to complete 5 strict reps, then work on kipping or jumping negatives.
Metcon
Metcon (AMRAP – Rounds and Reps)
Ascending Ladder 11:
1 Ring Push-Up

1 Pendlay Row

1 Front Squat

2 Ring Push-Ups

2 Pendlay Row

2 Front Squats

3 Ring Push-Ups

3 Pendlay Row

3 Front Squats

4 Ring Push-Ups

4 Pendlay Row

4 Front Squats

….increasing 1 rep each round until time bust.
Weights:

Rx+ 135/95

Rx 95/65

Sc 75/55
*Scale hand release push-ups for Ring Push-Ups