CrossFit Ballwin – CrossFit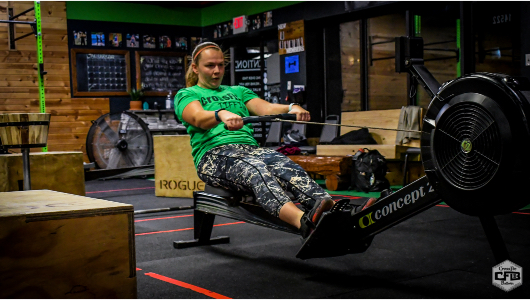 Daily Mindset
"I don't like that man. I should get to know him better." – Abraham Lincoln

Perspective is everything.

In the abundance mindset, there is the belief all human beings are good. No one is born evil.

A situation we can all relate to from some point in our lives is a poor first impression. We meet someone we really do not want to spend another second around. Yet, life puts us right back next to them. Definitely not by choice, but by chance.

And we talk.

And we strike some common ground.

And we understand them a bit more.

And things… change. We may not be close friends, but, that animosity we initially felt is no longer there. The brief amount of time we spent talking with them afforded us the chance to better grasp their perspective. And potentially even the reason why we felt the way we did.

Next time we find ourselves feeling that wave of emotion towards someone, remind ourselves… maybe we just need to get to know them a little bit better.
Warm-up
3 Rounds:

:30 Band Pull Aparts

5 Air Squats w/ pause at the bottom

5 Push-ups w/ pause at the bottom
Barbell Warmup

5 Good Mornings

5 Back Squats

5 Elbow Rotations

5 Strict Press & Reach

5 Romanian Deadlifts

5 Front Squats
Mobility
1:00 Squat Hold

:30 Each Side Pec Stretch on Wall
Strength & Skill
Bike:

1. Cal Test
Muscle-Ups:

1. Pull to Sternum

2. Keep Elbows In
Front Squat:

1. Barbell On Body
Weightlifting
FRONT SQUAT – Perform a set every 2:00

Tempo-Pause Front Squats (:3 descent – :2 pause at the bottom – Stand fast)

4 sets of 3 Reps

– Increase loads across each set

– Pull from ground
Metcon
"PUT A RING ON IT" (Time)
10 Rounds For Time:

3 Ring Muscle-Ups

6 Front Squats (165/105)

9/6 Calorie Bike
Modification 1

10 Rounds For Time:

1 Ring Muscle-Up

6 Front Squats (115/85)

9/6 Calorie Bike
Modification 2

10 Rounds For Time:

3 Muscle-Up Kneeling Transitions

6 Front Squats (75/55)

7/4 Calorie Bike
After Party
GROUP STRETCH

Pigeon Pose + Lat Reach: 45 Seconds Each Side

Calf Stretch on Post: 30 Seconds Each Side

Turn Back Stretch: 1 Minute Each Side
ACCESSORY (BEYOND THE 60)

[Designed for members wanting a little more – to be completed outside of the 60-minute class]

On the 3:00 x 3 Sets:

25′ Double Dumbbell Pausing Walking Lunges

25′ Double Dumbbell Walking Lunges
– Pausing Walking Lunge – :1 pause with back knee on the ground.

– Dumbbells held in the front rack position, with hands on handles.
Modifications
RING MUSCLE UPS

Decrease Reps

Ring Muscle Up Transitions (Seated/Banded)

Bar Muscle Ups
FRONT SQUATS

Decrease Load

Double Dumbbell/Single DB Goblet

12 Air Squats

To a target
BIKE

15/9 Cal Bike Erg/Row

9/7 Cal Ski Erg

100m Run