CrossFit Ballwin – CrossFit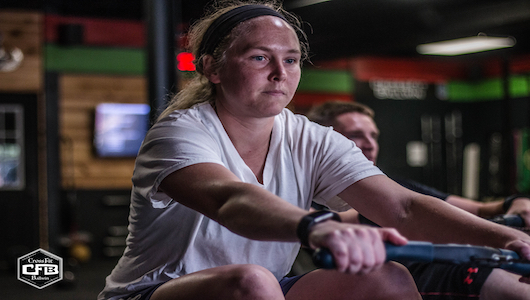 Caitilyn Brenner
Warm-up
Warm Up # 2 (60 Sec) (No Measure)
Perform 60 seconds of each movement, then stretch. Keep movements to a moderate pace.
Alternating Step Ups

Jump Rope

Inchworm

Walking Lunge

Kettlebell Swing

Push Ups

Air Squats

Jump Rope

Burpees
1 Lap Run
Mobility
Childs Pose – :30 Seconds

Wrist Stretch – :30 Seconds

Dumbbell Ankle Stretch – :30 Each Side
Strength & Skill
Dumbbell Snatches:

1. Elbows Forward

2. Move Prep
Wall Balls:

1. Ball to Bone

2. Move Prep
Deadlifts:

1. Shins Vertical

2. Press Through the Floor

3. Move Prep
Handstand Push-Ups

1. Forearms Vertical

2. Move Prep
Metcon
Looking for athletes to choose a weight on the dumbbell and deadlifts that they are capable of completing 20+ repetitions unbroken.
Metcon (AMRAP – Reps)
AMRAP 13:

70 Alternating Dumbbell Snatches (50/35)

60 Wallballs (20/14)

50 Deadlifts (205/135)

40 Handstand Push-ups