CrossFit Ballwin – CrossFit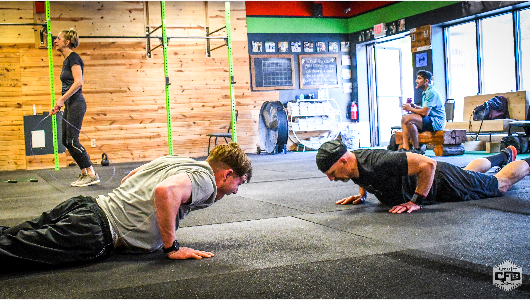 Daily Mindset
"The purpose of pain is to move us in action, not to make us suffer." – Tony Robbins

If we can frame pain for what it is, we redefine what this feeling means to us. As Tony Robbins puts it, it's purpose is to move us forward. It's leverage. A massive edge when seen through the right lens. Few things in the world can get a human being to move faster than pain.

We recognize to do anything great, it's going to be temporarily uncomfortable. It's going to take the grit and grind that we all know. What this is far from however, is suffering. Suffering is a state of mind that takes hold when we don't understand why we're feeling pain.

Pain is mandatory, suffering is optional.
Warm Up
PVC Warm-Up*

10 Pass-Throughs

10 Overhead Presses

10 Good Mornings

10 Overhead Lunges (in-place)

10 Deadlifts

10 PVC Around-the-Worlds

*10 Jumping Jacks in between each exercise
Strength & Skill
Muscle-Up Tutorial (Low Rings) – The Steps & What To Look For

Set-Up

Progressions

1. Ring Support

2. Ring Dip

3. The False Grip

4. The Kneeling Transition

5. The Kneeling Muscle-Up Transition (Steps)
Bar-Facing Burpee / Deadlift / Wall Ball
Weightlifting
Deadlift (3 Warm-up Sets, 5 Working Sets of 5-6 Reps )
Metcon
"NAPALM" (Time)
2 Rounds for Time:

10 Muscle-Ups

20 Bar-Facing Burpees

30 Deadlifts (225/155)

40 Wallballs (20/14)
INTERMEDIATE

2 Rounds for Time:

5 Muscle-Ups OR 10 Muscle-Up Transitions

20 Bar-Facing Burpees

30 Deadlifts (185/135)

40 Wallballs (14/10)
NOVICE

2 Rounds for Time:

10 Muscle-Up Transitions

12 Bar-Facing Burpees

20 Deadlifts (45/35)

25 Wallballs (12/10)
After Party
Foam Roller Party

-Lower Back

-Hamstrings

-Calves

-IT Band

-Quads

-Lats
Modifications
Muscle-Ups

Reduce reps

Muscle-Up Transitions (same number – increase difficulty by moving feet further out in front of the athlete)

10 Ring Rows + 10 Jumping Ring Dips
Bar-Facing Burpees

Reduce reps to a number that can be completed in ~2:00

Step Over the Bar vs. Jump

No-Push Up Burpee (do not perform the push-up portion of the Burpee)
Deadlift

Reduce the load to a load that can be moved well for at least 15 reps

*Modify the Distance – Elevate from bumper plates if the athlete is struggling to achieve a neutral spine in the set-up

Change the Equipment – Kettlebells and Dumbbells are great substitutes for injuries
WallBall

Reduce the load and throw to a 10/9 foot target

If one arm is injured, change the movement to a single arm thruster (light)