CrossFit Ballwin – CrossFit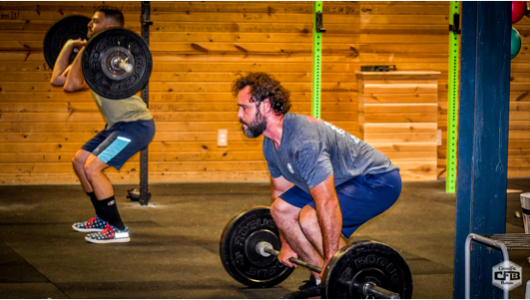 Daily Mindset
TRAIN

This week, let's make sure we are exercising and moving in our everyday lives in addition to what we are doing in the gym!

This could be playing with your kids in the backyard, intentionally going for a 30 minute walk during your lunch break, joining a recreational sport a few times a week, yard work, hiking, anything! It is SO important for us to not get in the mindset of "checking the movement box" by going to the gym. CrossFit should be the catalyst to living healthy movement filled lives.

Try your best this week to add movement wherever you can in your daily routine! An added bonus if that movement is outside.
Warm-up
0:30 Box Step Ups

0:30 Inchworm to Push Up

0:30 Frog Hops

0:30 Jumping Jacks

0:30 Downdog

0:30 Slow Burpees

0:30 Box Jump Up Step Down

4 Box Jump Overs

0:30 Active Samson

0:30 Child's Pose Hands on the Box
Strength & Skill
10 Scap Retractions

10 Mini Kip Swings

5 Kip Swings

1-3 Strict Pull Ups

3 Chest to Bar Pull Ups or Workout Variation Pull Ups

5 Knee to Chest

3 Toes to Bar
EMPTY BARBELL

5 Deadlifts

5 Muscle Cleans

5 Front Squats

5 Strict Press
W/ Coach

3 Pausing Power Cleans

3 Pausing Front Squats

3 Pausing Push Jerks
Metcon
"SNEAKY SEVENS" (Time)
[COMPETE]

7 Rounds For Time:

7 Box Jump Overs (30″/24″)

7 Power Cleans (135/95)

7 Toes to Bar

7 Front Squats (135/95)

7 Bar-Facing Burpees

7 Push Jerks (135/95)

7 Chest to Bar Pull-ups
[TRAIN]

7 Rounds For Time:

7 Box Jump Overs (30″/24″)

7 Power Cleans (135/95)

7 Toes to Bar

7 Front Squats (135/95)

7 Bar-Facing Burpees

7 Push Jerks (135/95)

7 Strict Chest to Bar Pull-ups
[SWEAT]

7 Rounds For Time:

7 Box Jump Overs (24″/20″)

7 Power Cleans (95/65)

7 Toes to Bar

7 Front Squats (95/65)

7 Bar-Facing Burpees

7 Push Jerks (95/65)

7 Pull-ups
After Party
MOBILITY

1:00 Straddle Stretch
AFTER CLASS

5 Rounds For Quality:

3-5 Strict Pull Ups

15 Band Pull Aparts

10 Light Barbell Hip Thrusts
Modifications
BOX JUMP OVERS

-Reduce Reps

-Reduce Height

-Box Step-Overs

-Broad Jumps
POWER CLEANS

-Reduce Weight

-Reduce Reps

-Sub Dumbbells
TOES TO BAR

-Reduce Reps

-4 Strict Toes To Bar

-14 Sit-Ups
FRONT SQUATS

-Reduce Weight

-Reduce Reps

-Sub Dumbbells
BAR-FACING BURPEES

-Reduce Reps

-Regular Burpees
PUSH JERK

-Reduce Weight

-Reduce Reps

-Sub Dumbbells
CHEST TO BAR PULL-UPS

-Reduce Reps

-4 Strict Chest To Bar

-Alternating Dumbbell Plank Rows