CrossFit Ballwin – CrossFit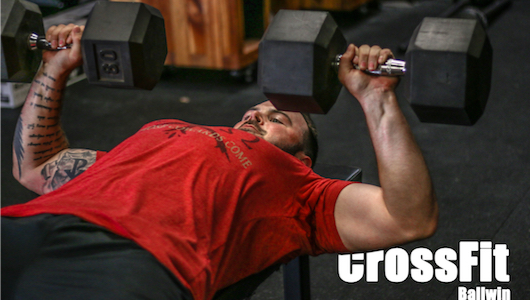 Michael Beitenman
Warm-up
10 Minute Kettlebell Warm Up (No Measure)
Each movement is 60 seconds

-Single Side KB Swing (Left)

-Lunge (Right)

-Clean & Press (Left)

-Single Side KB Swing (Right)

-Lunge (Left)

-Clean & Press (Right)

-Turkish Getup (Left)

-Figure 8's (Front Pass)

-Turkish Getup (Right)

-Figure 8's (Back Pass)
Strength & Skill
Clean and Jerk (15 Min to find 1RM)
Metcon
Metcon (Weight)
Partner AMRAP 25:

250m Back Rack Farmer Walk

50ft DB Bear Crawl Push

50ft DB Bear Crawl Pull

50 DB Snatches
*This workout is based on weight. Find a something that is challenging between partners.

*Once the movement is completed at the weight to your total moved.

*This workout could be strategized two different ways. 1) Go heavy, maybe resulting in less rounds but increased weight. 2) Stay lighter, but move quickly & non-stop. Either way you choose, communication is key.

*Break up each movement as needed between partners.

*End result: Just move the weight as a team.