CrossFit Ballwin – CrossFit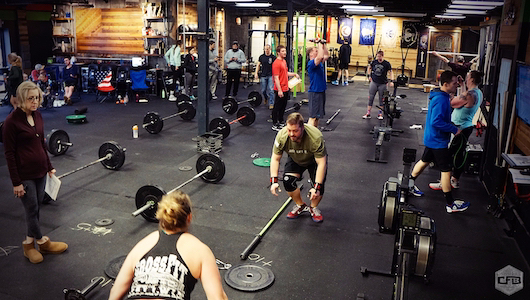 The next one is coming…June 22nd.
Warm-up
30 Seconds

Side Lunges

Slow Air Squats

Knuckle Drags*

Russian Kettlebell Swings

Active Samson

Kettlebell Goblet Squats

Kettlebell Strict Press (Right Arm)

Kettlebell Strict Press (Left Arm)
Barbell Warm-up

5 Good Mornings

5 Back Squats

5 Elbow Rotations

5 Press & Reach

5 Stiff Legged Deadlifts

5 Front Squats
Mobility
Kettlebell Ankle Stretch: 1 Minute Each Side

Kettlebell Squat Hold: 1 Minute
Strength & Skill
Front Squats:

1. Zombie Squats

2. Move Prep
Kettlebell Swings:

1. Zombie Arms

2. Move Prep
Weightlifting
25 Russian KB Swings (Weight)
Find a hard but doable weight that can be completed with unbroken reps.
Metcon
Jack Squat (Time)
21-15-9:

Front Squats (135/95)

Kettlebell Swings (70/53)

400 Meter Run