CrossFit Ballwin – CrossFit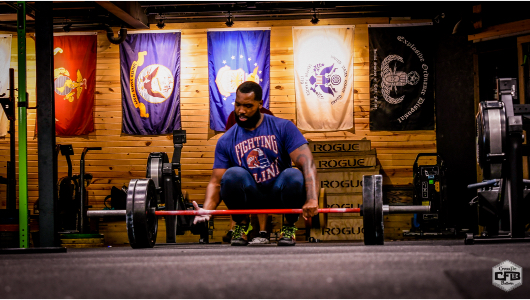 Daily Mindset
"You'll miss the best things if you keep your eyes shut" -Dr. Suess

This quote is worth reading twice. We are creatures of habit. We enjoy our routines. From the morning rituals, to the way we warm up for a workout, to our regimented diets and food plans.

Although dialing in the routine is a great thing, it's important that we remind ourselves to "keep our eyes open." What Dr. Suess's quote alludes to is an open mind. Even when we feel we've found exactly what works for us, we must resist the urge to close our eyes and ears to new ideas.

There is so much to learn, experience, and challenge ourselves with. That is, if we only keep our eyes open to do so.

Always a student.
Warm-up
Line Drills

High Knee Karaoke

Over the Hurdle

Knee to Chest

Cradle Stretch

Walking Samson

Lunge & Twist (Over Front Leg)

Toe Touches

High Knees

Butt Kickers

Straight Leg Hops

Side Shuffles

Side Shuffle with Jumping Jacks

Heel Walk

Toe Walk

Fast Feet
Mobility
Banded Lat Stretch: 45 Seconds Each Side

Banded Hamstring Stretch: 45 Seconds Each Side
Strength & Skill
Review the "Get Long" aspect of the each movement.
Weightlifting
Back Squat (5 Set of 3 Reps at a moderate heavy weight)
Metcon
Helen (Time)
3 Rounds for time of:
400m Run
21 Kettlebell Swings, 53# / 35#
12 Pull-ups
After Party
Overhead Squat Positioning

On the 2:00 x 5 Sets:

1 Pausing Overhead Squat (2 Seconds in Bottom)

1 Overhead Squat

Set 1: 60% 1RM Overhead Squat

Set 2: 65% 1RM Overhead Squat

Set 3: 70% 1RM Overhead Squat

Set 4: 75% 1RM Overhead Squat

Set 5: 75-80% 1RM Overhead Squat
Modifications
400 METER RUN

500 Meter Row

400 Meter Ski Erg

25/18 Calorie Bike

30 Shuttle Runs [10 Meters]
21 KETTLEBELL SWINGS

30 Single Arm Russian Dumbbell Swings

21 Odd Object Ground to Overhead
12 PULL-UPS

Reduce Reps

Banded Pull-ups

Ring Rows

12 Inverted Bar Rows

12 Renegade Rows

12 Dumbbell Rows From Plank Position (12 Each Side)

12 Barbell Bent Over Rows

24 Double Dumbbell Bent Over Rows

24 Single Dumbbell Bent Over Rows (12 Each)

24 Odd Object Bent Over Rows