Announcements
Join us on October 28th for our Barbells for Boobs Team WOD!
CrossFit Ballwin – CrossFit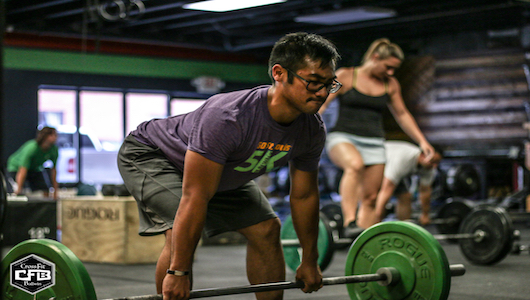 Tim Villaverde
Warm-up
Warm Up # 8 (Shuttle) (No Measure)
**Shuttle Distance Set @ 30 ft.

**Reps are down & back.
3 x Light Jog

2 x Crossover

1 x Walking Lunge

1 x Crocodile Walk

1 x Inch Worm

2 x Crossover

3 x Light Jog
Strength & Skill
18 Minutes to work on Double Unders & Jerks. Build up to the weight you're going to use in the Metcon. Weight is meant to be on the heavier side…..given that FORM is in check.
Double-Unders (Skill Work)
Max Double-Unders (AMRAP – Reps)
Max set of Unbroken Double-Unders
Metcon
Metcon (AMRAP – Reps)
6- 3 minute rounds of:

30/25 Cal Row

Jerks Max Reps

-60 Sec Rest Between Rds-
Total Reps of Jerk
Weights:

Rx+ 205/135

Rx 165/110

Sc 135-115/95-75