CrossFit Ballwin – CrossFit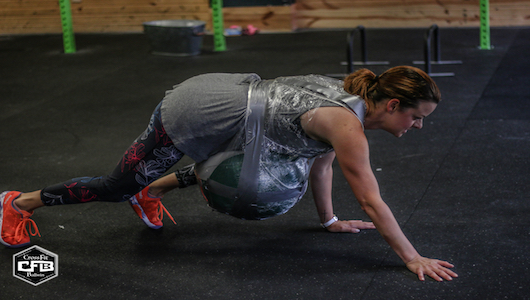 Rebekah "The Tiger" Sillman
Warm-up
Warm Up # 8 (Shuttle) (No Measure)
**Shuttle Distance Set @ 30 ft.

**Reps are down & back.
3 x Light Jog

2 x Crossover

1 x Walking Lunge

1 x Crocodile Walk

1 x Inch Worm

2 x Crossover

3 x Light Jog
Strength & Skill
Choose the level/skill you're working on & start keeping track. Our goal is alway to progress, but in the safest & educational way possible. Even if you're scaling a movements in the Metcon, it should be "Difficultly Achievable" & aways progressing (even in the slightest).
Lev1: Kipping (Technique Work)
Lev2: Max Kip/Butterfly Pull-Ups (AMRAP – Reps)
Max Kipping or Butterfly Pull-Ups w/o coming off the bar
Lev3: Muscle-ups (Technique/Skill Work)
Lev4: Unbroken Muscle-Ups (AMRAP – Reps)
Metcon
Metcon (3 Rounds for reps)
Three 5-minute rounds for max reps at each station:

(0:00-2:00) 400m run, then max Double Unders

(2:00-3:00) Shoulder to Overhead

(3:00-4:00) Pull-Ups

(4:00-5:00) Hang Squat Clean
Rest 3 minutes between rounds.
Weights:

Rx+ 135/95

Rx 95/65

Sc 75/55-35
Pull-Ups:

Rx+ Chest to Bar

Rx Pull-Up

Sc Ring Row (scaled should still be difficult)