CrossFit Ballwin – CrossFit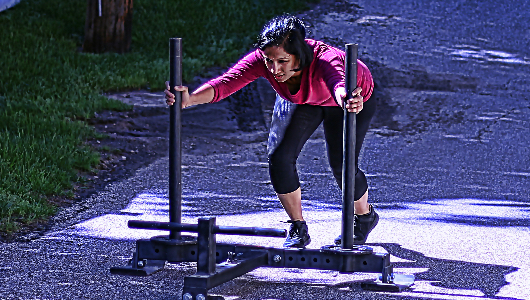 Sangita Aradhyula
Warm-up
Warm Up # 4 (Step Ups) (No Measure)
20/20 x Step Ups

3/3 x Turkish Get Ups

20 x Kettlebell Swings

10 x Push Ups
Strength & Skill
Crossover Symmetry 1 & 2
Complete both sides of the Symmetry chart as directed. Work with coaches to become familiar with this program, as this will become a very intricate part of our preventative maintenance in the gym. Ask questions, do research, & be engaged.
In between working with system, start warming up to the weights you're going to use in the metcon.
Metcon
Triple Trouble (3 Rounds for reps)
Burpee + Front Squat ladder

Rest 3 minutes

Burpee + Shoulder to Overhead ladder

Rest 3 minutes

Burpee + Deadlift ladder
For the ladder pattern, perform 1 rep of each exercise the first minute, 2 reps of each the second minute, 3 reps of each the third minute, continuing as long as you are able.

*Use as many sets each minute as needed.
*Weights*

Front Squats:

Rx+ 185/125

Rx 135/95

Sc 95/65
Shoulder to Overhead:

Rx+ 155/95

Rx 115/85

Sc 85/45
Deadlift:

Rx+ 315/215

Rx 245/165

Sc Hard but doable w/ good form