CrossFit Ballwin – CrossFit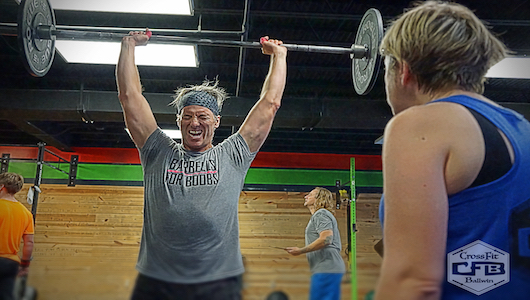 One..more…rep…BOB!
Warm-up
The CrossFit Warm-up (No Measure)
3 rounds of 10-15 reps of:
Samson Stretch (15-30 seconds)
Overhead Squat with PVC
Sit-ups
Back-extensions
Pull-ups
Dips
Strength & Skill
Pause Jerk (6 Sets of 3 (increasing based on form))
**1st dip on the Jerk is held in the bottom position for 2-3 seconds.

**Can be caught in the athletes primary Jerk receiving position.

**Training: helps generate power, adjust balance & posture positions, identifies forward knees (in dip & drive), or dip collapse.
Metcon
Metcon (Calories)
In teams of 3, complete AMRAP 22 of:

P1-

15 DB Bench Press

30 Double Unders

P2-

Max Cal Row

P3- Rest
**Once P1 is finished with movements, the team rotates

**Count the total calories rowed for the team
DB Weight:

Rx+ 70s/50s

Rx 50s/35s

Sc 25s/15s