CrossFit Ballwin – CrossFit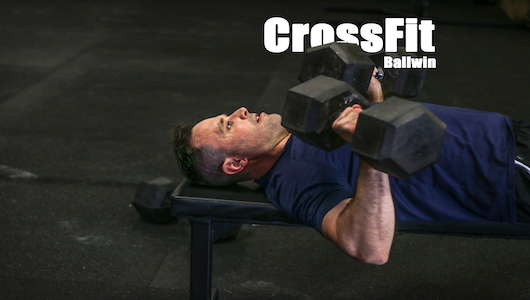 Rob Z
Warm-up
:30 Seconds

Medicine Ball Foot Taps

Active Spidermans

Medicine Ball Deadlifts

Active Samson

Squats to Medicine Ball

Push-up to Down Dog
Modified Barbell Warm-up:

5 Good Mornings

5 Back Squats

5 Elbow Rotations

5 Snatch Grip Push Press

5 Overhead Squats

5 Snatch Grip Deadlifts
Mobility
Child's Pose on Box: 1 Minute

Medicine Ball Squat Hold: 1 Minute
Strength & Skill
Box Jump Overs:

1. Landing Height

2. Move Prep
Wall Balls:

1. Chest Up

2. Move Prep
Power Snatch:

1. No Feet

2. Move Prep
Weightlifting
15 minutes here to build to heavy set of 5 power snatches. These are to be performed touch and go, prioritizing solid mechanics over weight on the bar.
Power Snatch (Build to Heavy 5 Reps)
Metcon
The power snatch should be a weight that athletes could cycle for 12-15 reps when fresh, with singles or small sets being the expectation during the workout.
Metcon (Time)
3 Rounds:

10 Power Snatches (115/80)

20 Box Jump Overs (24/20)

30 Wall balls (20/14)