CrossFit Ballwin – CrossFit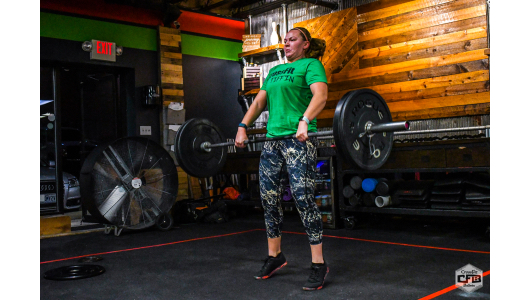 Daily Mindset
"There will never be better you, than you."

There is a lot to be said about authenticity.

The first definition inside Merriam-Webster reads, "worthy of acceptance or belief."

If there's one sure way to find failure in something, it's through not being ourselves. It just doesn't pan out in the long run. While we always remain a student, the harm lies when we blur the lines between emulating the traits of our mentors… with trying to actually be them.

Our mentors do not wish for us to follow in their footsteps.

Our mentors wish for us to go further. To blaze the path further than before.

We have incredible leaders to guide us. But it is now on us to push even further. And there's no one suited better for that, than you.
Warm-up
Bike Warmup

2 Minute Easy Ride
30 Seconds Each

Active Samson

Front Plank on Hands

Up Dog

Push-up Plank to Front Plank

Straight Leg Sit-ups

Shoulder Taps

Arch Hold

Inchworm to Push-up
Mobility
Pec Stretch on Wall: 40 Seconds Each Side

Dumbbell Assisted Straddle Stretch: 1 Minute
Strength & Skill
Review "Hands" for each movement.
Metcon
"Kickstarter" (AMRAP – Rounds and Reps)
AMRAP 20:

30/21 Calorie Bike

20 Single Arm Dumbbell Hang Clean and Jerks (50/35)

30 AbMat Sit-ups

20 Hand Release Push-ups
After Party
Body Armor

3 Sets of 12: Dumbbell Bench Press

3 Sets of 12: Barbell Bent Over Row

3 Sets of 12: Barbell Good Mornings

Rest 1-2 Minutes Between Sets
Modifications
SINGLE ARM DUMBBELL HANG CLEAN AND JERKS

Barbell Hang Power Clean and Jerks

Odd Object Power Clean and Jerks

Kettlebell Swings

Slamballs
HAND RELEASE PUSH-UPS

Reduce Reps

Hands Elevated (Box or Bench)

Knee Push-ups
BIKE

35/25 Calorie Row

30/21 Calorie Ski Erg

400 Meter Run