CrossFit Ballwin – CrossFit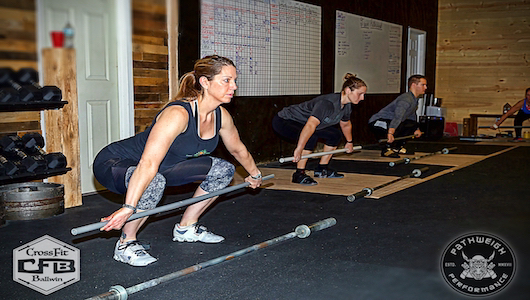 Upcoming PathWeigh clinic next weekend
Warm-up
Warm Up # 1 (Jump Rope) (No Measure)
2 Rounds of:
2 Min. Jump Rope

10 x Slow Deep Air Squats

10 x Slow Strict Press (PVC/Bar)

10 x Lunging Dislocates

10 x Sit Ups
Metcon
Take time before the benchmark to review butterfly & kipping movements, along with the requirements for good & bad reps. If you are scaling, try a different movement then one that you've been working on. Remember, scaled movements are progressive….so, they should be difficult at you skill level.
Cindy (AMRAP – Rounds and Reps)
20-Minute AMRAP of:
5 Pull-ups
10 Push-ups
15 Squats
Strength & Skill
Deadlift (5 Sets of 12 Reps)
Build to a moderate weight and maintain all 5 sets. Use it to stretch the hamstrings out from lunges, yesterday.