CrossFit Ballwin – CrossFit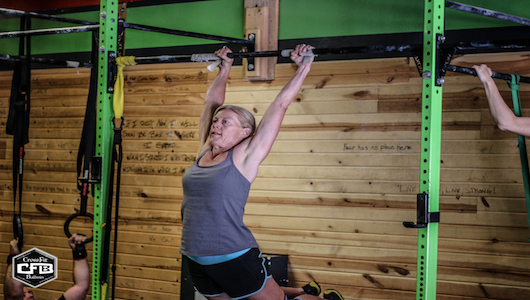 Julie Rausenberger
Warm-up
General Movements:

One partner completes cal bike, while the other continuously works alternative movement at moderate pace.
10/8 Cal Bike

– Alternating Lunge

10/8 Cal Bike

– Jumping Jack

10/8 Cal Bike

– Inch Worm
Metcon
Movement Specific:

Review Standards & build to appropriate weight.
The limiting factor in this Metcon will be the Push Press. Choose the weight based on this the ability to produce at least 3-4 rounds unbroken. Target rounds should be set for 10 rounds averaging :45 sec per round.
Metcon (AMRAP – Rounds and Reps)
9 AMRAP:
10 Alternating DB Push Press (50/35)

7 DB Front Squat

5 Burpees
Cool Down
With remaining time, work on a gymnastic movement that you have been struggling on. Only stipulation is that the movement must involve RINGs.
If you can't decide, perform 4 rds of 45 sec Plank on Rings, then 8-10 Dips.
Focus on building active shoulders on these movements.