CrossFit Ballwin – CrossFit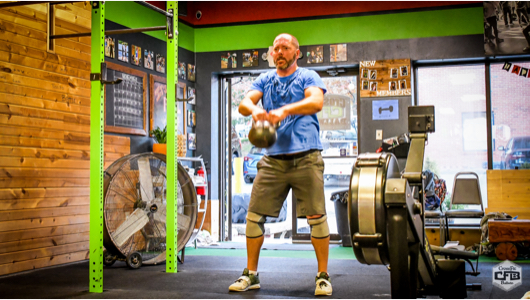 Daily Mindset
"The soul is like a bowl of water." – Epictetus

It's ok to get ruffled sometimes.

We are indeed human, and we will get emotional too.

The analogy that Epictetus depicts for us is that even though we can be rocked, knocked around, shaken… through disciplined stillness, we can always find emotional stability. The visual is quite relatable: a bowl of water, disturbed from some event, has ripples running throughout it. It's not at rest.

But with disciplined focus and effort, we can regain stillness. Often faster than we think.

In the moments where we are most shaken, remind ourselves of this visual. No matter how bad things get, everything is recoverable.
Warm-up
2 Rounds

1 Minute Row

30 Seconds Active Samson

30 Seconds Side Plank (Each Side)

30 Seconds Single Dumbbell Deadlifts (Each Side)

Performed with Lighter Dumbbell
Mobility
Dumbbell Ankle Stretch: 30 Seconds Each Side

Forearms Stretch: 30 Seconds
Strength & Skill
Review "Side to Side" with each movements.
Metcon
"Catch Fire" (Time)
3 Rounds For Time:

1,000 Meter Row

200 Meter Farmers Carry (50's/35's)

100′ Walking Lunge
After Party
Cool Down

10-15 Minutes of Stretching & Rolling

Recommended Targets:

Forearms

Hamstrings

Quads

Glutes
Modifications
1,000 METER ROW

1,000 Meter Row

800 Meter Ski Erg

50/35 Calorie Echo Bike

60 Shuttle Runs [10 Meters]
200 METER FARMERS CARRY

Single Dumbbell Farmers Carry

Odd Object Farmers Carry

Barbell Front Rack Carry

Side Plank (1 Minute Each Side)
100′ WALKING LUNGE

40 Reverse Lunges

40 Jumping Lunges