CrossFit Ballwin – CrossFit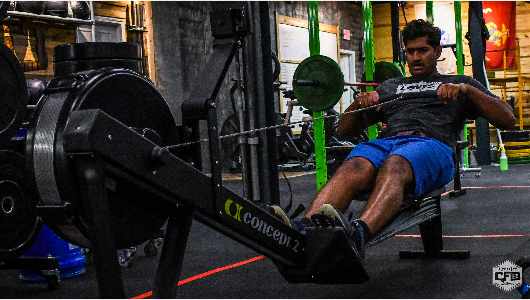 Daily Mindset
"Life is like sailing. You can use any wind to go in any direction." – Robert Brault

Are we sailing North on purpose, or is it because the wind is taking us that way?

Life will throw its curveballs. It's unseen illnesses, injuries, and schedule conflicts. But it is a choice to allow those to change our cardinal direction. There is always a way to continue in the direction we want.

When the challenge strikes, we don't adjust the goal. We adjust the sails.
Warm-up
Activate/Get Hot

Get as far as you can in 4:00 of:

"Mini Flight Simulator"

Double-Under (Single-Under x 2)

5-10-15-20-25-30-25-20-15-10-5

if you break a set, start back at the beginning of that set

5 Reps of Squat Therapy – :5 descent w/ :3 pause at the bottom
Strength & Skill
FOCUS: SOUND HIP FUNCTION – "A snappy hip will help the grip"
Metcon
Helen (Time)
3 Rounds for time of:
400m Run
21 Kettlebell Swings, 53# / 35#
12 Pull-ups
[TRAIN]

3 Rounds For Time:

400m Run

21 Kettlebell Swings (53/35)

8 Strict Pull-Ups
[SWEAT]

3 Rounds For Time:

400m Run

21 Kettlebell Swings (53/35)

12 Pull-Ups
After Party
1:00 Wrist Stretch (same time)

1:00 Pigeon (each side)

1:00 Banded Lat Stretch (each side)
After Bash – not mandatory

Accumulate 2:00 of an L-Sit

This can be from a seated position, on parallettes or rings.
BEYOND THE 60

For Time:

30 Power Snatches

Athlete's weight is a percentage of their 1RM Snatch:

Today's weight – 70%
Modifications
RUN

Decrease Distance

500/450m Row

400/360m Ski Erg

27/21 Calorie Bike
KETTLEBELL SWINGS

Decrease Load/Reps

Decrease Range-of-Motion (shoulder or eye level)

Single Arm Russian Dumbbell Swings

KB Deadlifts
PULL-UPS

Decrease Reps

Banded Strict Pull-ups

Ring Rows