CrossFit Ballwin – CrossFit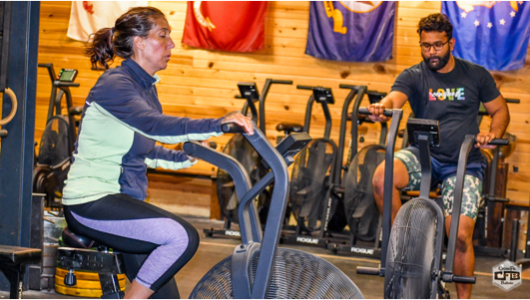 Warm-up
1:00 Row Easy Pace

0:30 Alternating Reverse Lunges

0:30 Push Up to Downdog

1:00 Row Moderate Pace

0:30 Slow Air Squats

0:30 Active Spiderman

1:00 Row at Workout Pace

0:15 Med Ball Squats

0:15 Med Ball Thrusters

5 Wall Balls
Overhead Squat Biased Barbell Warmup

5 Good Mornings

5 Back Squats

5 Elbow Rotations

5 Snatch Grip Behind the Neck Presses

5 Snatch Grip Romanian Deadlifts

5 Overhead Squats
Daily Mindset
EAT

Building on last week's focus of tracking what we eat in a nutrition app, we can use that information to understand how many calories are needed to maintain our current body weight.

We can take the average of our daily calorie intake from last week and use it as a baseline.

If our body weight stayed relatively similar, we can consider this amount of calories to be our "Maintenance Calories"

It is important to not make too many changes quickly. We should continue to eat at these "Maintenance Calories" for a few weeks and observe how our body weight changes.

After 3-4 consistent weeks, we will know better if this is truly your "Maintenance Calories" from there you can adjust your calories based on your goals!
Metcon
"WEAPON OF CHOICE" (Time)
[COMPETE/TRAIN]

For Time:

30 Power Snatches (135/95)

2,000 Meter Row

100 Wall Balls (20/14)
Partition However You'd Like
[SWEAT]

For Time:

30 Power Snatches (95/65)

2,000 Meter Row

100 Wall Balls (14/10)
Partition However You'd Like
After Party
MOBILITY

1:00 Pike Stretch

1:00 Child's Pose
5 Sets Max Unbroken Strict Pull Ups

After every set 200 Meter Run
Modifications
POWER SNATCHES

-Reduce Load

-Reduce Reps

-Sub Dumbbell(s)
2,000M ROW

-Reduce Distance

-4,000m Bike

-1,600m Run or Ski
WALL BALLS

-Reduce Reps

-Reduce Load

-Single Dumbbell Thrusters (DB Across Chest)

-Empty Barbell Thruster