CrossFit Ballwin – CrossFit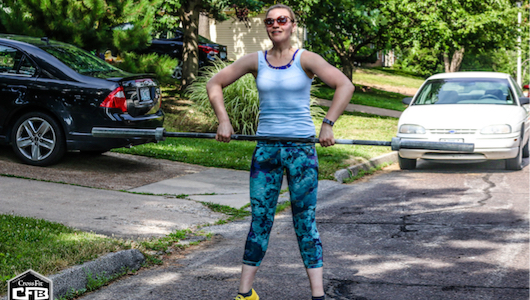 Kathryn Bielecki
Warm-up
Warm Up # 3 (MLB) (No Measure)
Two Rounds
10 x Air Squats

10 x Alternating Lunges

10 x Alt. Jump Lunges

5 x Jump Squats

10 x Push Ups

5 x Pull Ups
Stretch between rounds.
Strength & Skill
Alternating EMOM 14

ODD: Snatch Pulls

EVEN: Weighted Pull-Ups/Unweighted Pull-Ups (Max Reps)

**Scaleable options**

Bands: try to use as little as possible, not trying to go for a joyride on the bands.

Inverted Ring Rows: based on where you're at on the progression dictates the angle your body will pull from.

SCALED SHOULD STILL BE DIFFICULT, JUST AT BASED ON YOUR JOURNEY! Be proud of the struggle & hard work you're doing!
EVEN: Weighted Pull-ups (7 sets of 3-5 reps (weighted))
EVEN: Pull-ups (7 sets of Max reps (unweighted))
ODD: Snatch Pull (7 sets of 4 reps)
Stay close & controlled.
Metcon
Isabel (Time)
For Time: 30 Snatches, 135# / 95#