CrossFit Ballwin – CrossFit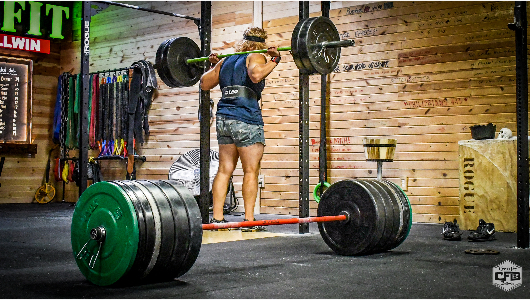 Daily Mindset
"Do not fear failure. But be terrified of regret." – Ashley Soughtley Spaulding

The reality of life is that we will hear more "no's" than "yes's".

And we will fail.

A lot.

But despite the hundreds of doors closed on our phase, the hundreds of times we are told "no way", they will never haunt us. What we will regret will be the instances where we gave up. Where we told *ourselves" no.

We don't fear failure… we welcome it. It's where the learning occurs. Where the real magic happens.
Warm-up
30 Seconds Each

Jumping Jacks

Single Unders

Down Dog

Single Unders

Inchworm to Push-up

Single Unders

Push-up to Down Dog

Single Unders

Glute Bridge Walkouts
Barbell Warmup

5 Good Mornings

5 Back Squats

5 Elbow Rotations

5 Strict Press & Reach

5 Romanian Deadlifts

5 Front Squats
Mobility
Banded Hamstring Stretch: 45 Minute Each Side

Banded 3-Way Shoulder: 30 Seconds Each Position & Side
Strength & Skill
Double Unders:

1. Relaxed Grip
Deadlifts:

1. Mixed Grip
Hang Power Cleans:

1. Hook Grip
Push Jerks:

1. Thumbs Under Grip
Weightlifting
Push Jerk (On the Minute x 10: 2 Push Jerks)
Pull bars from the floor.
Metcon
"The Landlord" (AMRAP – Rounds and Reps)
AMRAP 12:

35 Double Unders

9 Deadlifts

7 Hang Power Cleans

5 Push Jerks
*Barbell: 155/105
After Party
Gymnastic Stamina Benchmark

For Time:

100 Double Unders

50′ Handstand Walk

80 Double Unders

50′ Handstand Walk

60 Double Unders

50′ Handstand Walk

40 Double Unders

50′ Handstand Walk

20 Double Unders

50′ Handstand Walk
Modifications
35 DOUBLE UNDERS

Reduce Reps

Single Unders

40 Seconds of Practice

35 Double Taps

50 Line Hops

20 Over-and-Back Dumbbell Hops
9 DEADLIFTS

9 Double Dumbbell or Kettlebell Deadlifts

18 Single Dumbbell Deadlifts

18 Odd Object Deadlifts
7 HANG POWER CLEANS

7 Double Dumbbell Power Cleans

14Single Dumbbell Power Cleans

14 Odd Object Power Cleans
5 PUSH JERKS

5 Double Dumbbell Push Jerks

10 Single Dumbbell Push Jerks

10 Odd Object Push Jerks