CrossFit Ballwin – CrossFit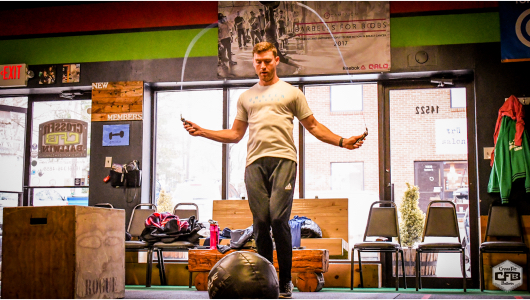 Daily Mindset
"Only a man who knows what it's like to be defeated, can reach down to the bottom of his soul with the extra ounce of power to win, when the match is even." – Muhammad Ali

It's commonplace to look at mistakes, miscues, and losses as negatives. And it's even more common, to view them as setbacks. Yet here, one of the greatest of time, offers the difference maker in an otherwise even fight between two opponents:

Failure.

Through the experience of failure, the fighter becomes the victor. Not because of the pain of loss, or the embarrassment of defeat. But through viewing failure as a chance to start again, more equipped. More prepared. More experienced.
Warm-up
30 Seconds Each

Push-up to Down Dog

Jumping Jacks

Alternating Bird Dogs

Active Spidermans

Lateral Hops Over Rope

Front Plank

Up Dog

Easy Single Unders

Front Plank to Push-up Plank

Active Samson

Double Taps

Shoulder Taps
Mobility
Couch Stretch: 1 Minute Each Side

Pec Stretch on Wall: 45 Seconds Each Side

Calf Stretch on Post: 30 Seconds Each Side
Strength & Skill
Double Unders & HR Push-Ups:

1. The Hands
Toes to Bar:

1. Fast Flick
Gymnastics
Toes-To-Bar (10 EMOM – Max Reps each minute)
This is a time for athletes to work on getting or stringing together T2Bs
Metcon
"Wunderful" (Time)
10 Rounds For Time:

30 Double Unders

20 AbMat Sit-ups

10 Hand Release Push-ups
"Wunderful" — Beef'd Up (Time)
5 Rounds For Time:

30 Double Unders

15 GHD Sit-ups

30 Double Unders

15 Handstand Push-ups
After Party
Cool Down

10-15 Minutes of Stretching & Rolling

Recommended Targets:

Calves

Chest

Triceps

Quads
Modifications
DOUBLE UNDERS

Reduce Reps

Single Unders

Practice Time Caps

Double Taps (Equal Reps)

Line Hops (Equal Reps)

Over-and-Back Dumbbell Hops (1/2 Reps)
ABMAT SIT-UPS

Sit-ups with Feet Anchored
HAND RELEASE PUSH-UPS

Reduce Reps

Hands Elevated (Box or Bench)

Knee Push-ups