CrossFit Ballwin – CrossFit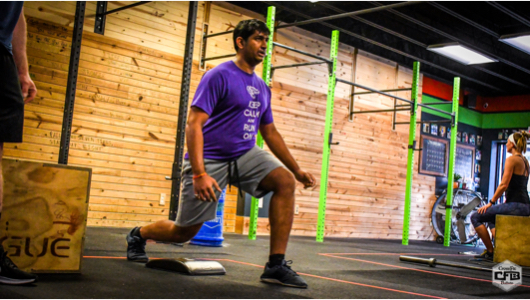 Daily Mindset
"Empathy fuels connection. Sympathy drives disconnection." – Brene Brown

Empathy and sympathy are often lumped together, but Brene Brown shares with us how different they truly are.

Sympathy is feeling "sorry" for someone. And although these intentions often come from a good place, it actually further isolates the individual. It creates a deeper divide.

Empathy, on the other hand, is free of judgement. It's sincerely listening, fully present in the moment for another. What is not, is a "diagnosis". Instead of being there to fix you, it's being there with you.

Rarely can a response make something immediately better. Actions can follow at another time. Often enough, what does make something better, is connection.
Warm-up
Row Warmup

2 Minute Easy Row
30 Seconds Each

Slow Air Squats

Glute Bridges

Single Leg Glute Bridges (Each Side)

Glute Bridge Walkouts

Lateral Squats

Slow Air Squats
Barbell Warmup

5 Good Mornings

5 Back Squats

5 Elbow Rotations

5 Strict Press & Reach

5 Romanian Deadlifts

5 Front Squats
Mobility
Barbell Ankle Stretch: 1 Minute

Barbell Thoracic Opener: 1 Minute
Strength & Skill
Review "Explode & Reload" for each movement.
Weightlifting
Barbell Complex #5
On the 1:30 x 6 Sets:

3 Front Squats

3 Push Press
Practice Round
1 Round

With Workout Weights:

3 Calorie Row

3 Thrusters
Metcon
Blitzen (Time)
5 Rounds:

20/15 Calorie Row

10 Thrusters (115/85)
"Blitzen" — Beef'd Up (Time)
5 Rounds For Time:

20/15 Calorie Row

10 Thrusters (135/95)
After Party
Machine Conditioning

3 Sets:

8 Minutes On

4 Minutes Off

Your Choice of Bike, Row, Ski, or Run
Modifications
THRUSTER

Double Dumbbell Thrusters (Equal Reps)

Single Arm Dumbbell Thrusters (2x Reps)

Dumbbell Goblet Thrusters (2x Reps)

Odd Object Thrusters (2x Reps)

Wallballs (2x Reps)

Jumping Air Squats (3x Reps)
ROW

15/12 Calorie Bike

15/12 Calorie Ski Erg

200 Meter Weighted Run

20 Shuttle Runs [10 Meters]