CrossFit Ballwin – CrossFit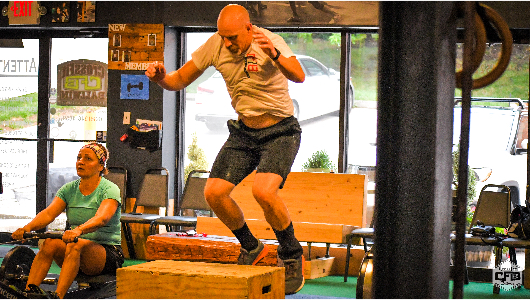 Daily Mindset
"To succeed in life, you need three things: a wishbone, a backbone and a funnybone." – Reba McEntire

As we start our day, let's think about these three.

Wishbone – Nothing is too great, or out of reach. Faith and doubt are both self-fulling prophecies.

Backbone – The unbreakable will to give our best, regardless of the circumstances. Through the lens of the growth-mindset, every outcome is an opportunity to become better.

Funnybone – We do life for one reason: to enjoy it. If we aren't enjoying what we're doing, we need to find something else. As Oscar Wilde writes, "Life is too short to take things seriously." Let's enjoy the ride.
Warm-up
The CrossFit Warm-up (No Measure)
3 rounds of 10-15 reps of:
Samson Stretch (15-30 seconds)
Overhead Squat with PVC
Sit-ups
Back-extensions
Pull-ups
Dips
Strength & Skill
FOCUS: – TIGHTEN THE LEGS, DRIVE THE HEELS – "No Soft Knees"
Weightlifting
Only 3 minutes rest between weightlifting & metcon.
Front Rack Lunge (Every 2:00, complete a set: 12-8-6-4-2)
-Front Rack In-Place Lunges

-Increase loads across each set
Metcon
"THROWING HANDS" (Time)
[COMPETE]

For Time:

40-30-20:

Abmat Sit-ups

Russian Kettlebell Swings (70/53)
Directly into…

30-20-10:

GHD Sit-ups (or Medball Overhead Sit-Ups)

Back Extensions (or Barbell Good Mornings)
[TRAIN] For Time:

40-30-20:

Abmat Sit-ups

Russian Kettlebell Swings (70/53)
Directly into…

30-20-10:

Overhead Medicine Ball Sit-ups (14/10)

Empty Barbell Good Mornings (45/35)
[SWEAT]

For Time:

40-30-20:

Abmat Sit-ups

Russian Kettlebell Swings (53/35)
Directly into…

30-20-10:

Overhead Medicine Ball Sit-ups (14/10)

Empty Barbell Good Mornings (45/35)
After Party
Stretch

1:00 Couch Stretch (Each Side)

1:00 Up-Dog

1:00 Butterfly Stretch
BEYOND THE 60

5 Sets For Quality:

:30 Front Rack Hold

7 Strict Toes to Bar

Increase in weight across sets
Modifications
ABMAT SIT-UPS

Decrease Reps

Hollow Hold (Seconds)

Leg Raises
RUSSIAN KETTLEBELL SWINGS

Decrease Load/Reps

Single Dumbbell Swings
GHD SIT-UPS

Decrease Reps

Decrease Range of Motion (To Parallel with Ground)

Weighted Overhead Med-Ball Sit-ups

Weighted Sit-ups
BACK EXTENSIONS

Decrease Reps

Barbell/Banded/Unweighted Good Mornings