CrossFit Ballwin – CrossFit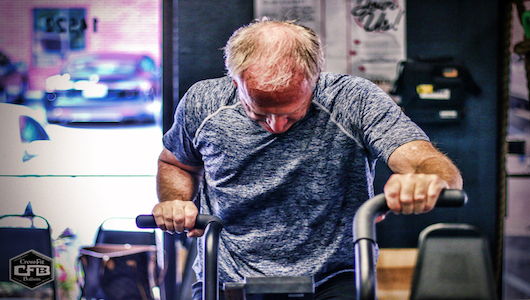 Good to have you back, Tom!
Warm-up
General Movements:

Moderate pace 800m Row
2 Rounds:

:20 Seconds Jumping Jacks

:40 Seconds Push-up to Down Dog
:20 Seconds Quick Single Unders

:40 Seconds Toe Touch + Air Squat
:20 Seconds High Single Unders

:40 Seconds Active Spidermans
Strength & Skill
-Movements Specific-

Pull-Ups: Review Hollow Body & Superman Positions, move to active shoulder hang, then slow controlled gliding kips. Once shoulders are warm practice kipping pull-ups or reviewing scaled movement.

Double Unders: Practice targeting rope to mark (chalk) 8-12 inches in front of feet with single unders. Move into efficiency of double unders and controlling the legs through the upward drive. Spend time practicing stringing doubles together.
Metcon
Strategy: Look for about 3:30-4:00 per round. Move quickly, stay composed during the double unders. This is an area that could make or break the time per round.
Metcon (Time)
4 Rounds For Time:

600m Row

12 Pull-Ups

40 Double Unders
Movement Substitutions

Reduce Reps:

DU1- 80 Single Unders

DU2- :45 Seconds Double Under Practice

PU1- Banded Strict Pull-ups

PU2- Ring Rows