CrossFit Ballwin – CrossFit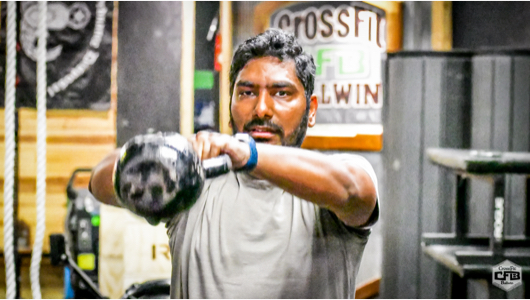 Daily Mindset
TRAIN

Sprint: Athletes are building in speed and never slowing down. Emptying the tank!

Threshold: Athletes are finding the upper limit pace they can sustain during a workout without needing to slow down.

Pacer: Athletes are strategizing to find the most efficient way to complete a high volume or high duration workout.

Grind: Athletes are working at a slower pace to get the work done.
Warm-up
0:30 Child's Pose

0:30 Downdog

0:30 Active Spiderman

0:30 Alternating Side Lunge

0:30 Slow Air Squats

0:30 Arm Circles Backwards

0:30 Dead Hang from Pull Up Bar
10 Scap Retractions

10 Mini Kip Swings

5 Big Kip Swings

1-3 Strict Pull Ups
Metcon
"CHANGE OF PLANS" (3 Rounds for reps)
[COMPETE]

AMRAP 5:

50ft. Double Dumbbell Front Rack Walking Lunges

12 Bar Muscle Ups

9 Double Dumbbell Hang Power Cleans

——Rest 5 Minutes——

AMRAP 5:

50ft. Double Dumbbell Front Rack Walking Lunges

12 Chest to Bar Pull Ups

9 Double Dumbbell Front Squats

——Rest 5 Minutes——

AMRAP 5 :

50ft. Double Dumbbell Front Rack Walking Lunges

12 Pull Ups

9 Double Dumbbell Push Jerks
**Dumbbells: (50's/35's)

[TRAIN]

AMRAP 5:

50ft. Double Dumbbell Front Rack Walking Lunges

12 Strict Burpee Pull Ups

9 Double Dumbbell Hang Power Cleans

——Rest 5 Minutes——

AMRAP 5:

50ft. Double Dumbbell Front Rack Walking Lunges

12 Strict Chest to Bar Pull Ups

9 Double Dumbbell Front Squats

——Rest 5 Minutes——

AMRAP 5 :

50ft. Double Dumbbell Front Rack Walking Lunges

12 Strict Pull Ups

9 Double Dumbbell Push Jerks
*Dumbbells: (50's/35's)
[SWEAT]

AMRAP 5:

50ft. Double Dumbbell Front Rack Walking Lunges

12 Burpee Pull Ups

9 Double Dumbbell Hang Power Cleans

——Rest 5 Minutes——

AMRAP 5:

50ft. Double Dumbbell Front Rack Walking Lunges

12 Chest to Bar Pull Ups

9 Double Dumbbell Front Squats

——Rest 5 Minutes——

AMRAP 5 :

50ft. Double Dumbbell Front Rack Walking Lunges

12 Pull Ups

9 Double Dumbbell Push Jerks
After Party
MOBILITY

1:00 Lay and Pray
AFTER CLASS

Deadlift:

5-5-10-10-10

After every set. . .

Max Unbroken Strict Pull Ups
Modifications
WEIGHTED WALKING LUNGE

-Reduce/Remove Weights

-Reduce Distance

-Sub Barbell

-16 Step Back Lunges
DOUBLE DUMBBELL MOVEMENTS

-Reduce Reps

-Reduce Weights

-Sub Barbell
BAR MUSCLE UPS

-Reduce Reps

-Burpee Pull Ups

-Double Dumbbell Devil Presses
CHEST TO BAR PULL UPS

-Reduce Reps

-6 Strict Chest To Bar

-Alternating Double Dumbbell Plank Rows
PULL UPS

-Reduce Reps

-6 Strict Pull Ups

-Double Dumbbell Bent Over Rows