CrossFit Ballwin – CrossFit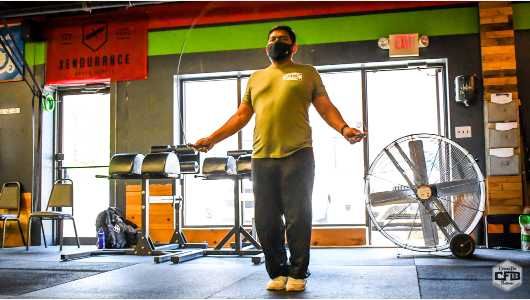 Daily Mindset
"What looks like talent is often careful preparation. What looks like skill is often persistent revision." – James Clear

Nothing happens on the competition floor by accident. We are a result of the work we've completed leading up to that point. There is no pixy dust, magical words, or secret tricks.

When we look at the work behind the closed doors, we start to see what talent really is.

Hard, committed, unwavering effort.

Never fooled by those that "make it look easy", as easy doesn't happen by accident.

To some, that thought can be dis-encouraging. Not the case for us. For this team, it's the opposite… it's invigoration. It's proof that we too can reach those heights… if we, that is, put in the work.

So let's get to it.
Warm-up
:30 Forward Lunges

:30 Active Samson

:30 Alternating Bird Dogs

:30 Shoulder Taps

:30 Active Spidermans

:30 Inchworm to Push-up
Barbell Warmup

5 Good Mornings

5 Back Squats

5 Elbow Rotations

5 Strict Press & Reach

5 Romanian Deadlifts

5 Front Squats
Strength & Skill
Ring Dips:

1. Establish the correct Ring Dip prescription
Kettlebell Swing:

1. Chest High When Hinging
Weightlifting
Clean & Jerk Technique Complex (Build up to a heavy, but solid technique, single)
1 Pausing Power Clean

1 Power Clean

1 Pausing Push Jerk

1 Push Jerk
– Pause For One Second In the Catch of the Clean

– Pause For One Second In the Dip of the Jerk
Metcon
"In The Air Tonight-ish" (Time)
10 Rounds For Time:

3 Power Clean and Jerks (135/95#)

6 Ring Dips

9 Kettlebell Swings (53/35#)
Modification 1 (Performance)

10 Rounds For Time:

3 Power Clean and Jerks (115/80#)

4 Ring Dips

9 Kettlebell Swings (53/35#)
Modification 2 (Fitness)

10 Rounds For Time:

3 Power Clean and Jerks (75/55#)

6 Push-Ups

9 Kettlebell Swings (35/20#)
After Party
Midline Stamina

3 Rounds [6 Minutes Total]:

30 Side Plank (Each Side)

30 Second Plank Shoulder Taps

30 Second Arch Hold
Modifications
POWER CLEAN & JERK (<:30)
Decrease load vs. reps. Keep it at 3.

Hang C&J (for simplicity or injury)

Injury: Only Clean or Only Jerk / Seated DB Curl
RING DIP( <:30)
Decrease reps as low as 3

Negatives with a :30 descent (jump back up)

Ring Dip w/ feet on the floor (still working hard)

Push-Up (toes or knees)
KETTLEBELL SWING (<:30)
Decrease the load

Injury: decrease height of pull