CrossFit Ballwin – CrossFit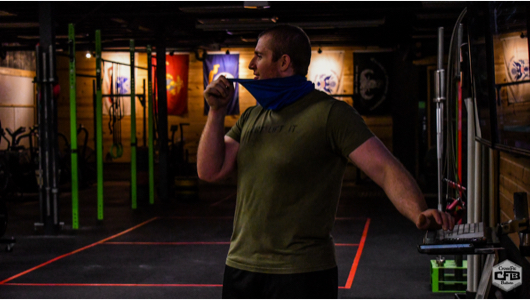 Daily Mindset
Some interesting fun facts to share.

Science has measured humans to have 20,000 genes.

Science has also measured onions… which come in at over 40,000.

The idea of better or worse "gene pools" is a myth. They determine our natural hair and eye color, but we stand by this core belief to our last breath: they do not control our potential.

Another "gene" controls that. It's called "Epigenetic". A fancy word that says, we are the ultimate adaptation machine. It's the quality that human beings can learn and grow faster than the vast majority of species on our planet.

The great thing about Epigenetic is that we're all born with it.

Forget what you were born with. And focus about what you can become.
Warm-up
Row Warmup

2 Minute Easy Row
30 Seconds Each

Single Unders

Lateral Squats

Single Unders

Wall Squats

Single Unders

Air Squats (Hands Overhead)
Barbell Warmup

5 Good Mornings

5 Back Squats

5 Elbow Rotations

5 Strict Press & Reach

5 Romanian Deadlifts

5 Front Squats
Mobility
Couch Stretch: 45 Seconds Each Side

Barbell Ankle Stretch: 45 Seconds
Strength & Skill
Review "Good Length" for each movement.
Weightlifting
Front Squat (Build to a Heavy, but doable Single)
Metcon
"Double Check" (1 Rounds for time)
On the 4:00 x 5 Rounds:

50 Double Unders

20/15 Calorie Row

10 Front Squats (155/105)
-Final score will be the slowest of the 5 rounds
After Party
Gymnastics Conditioning

On the 5:00 x 3 Sets:

40% Max Ring Muscle-ups

50′ Single Dumbbell Overhead Walking Lunge (Left)

30% Max Ring Muscle-ups

50′ Single Dumbbell Overhead Walking Lunge (Right)

20% Max Ring Muscle-ups

Dumbbell: 50/35
Modifications
DOUBLE UNDERS

Reduce Reps

1 Minute of Practice

75 Single Unders
ROW

15/12 Calorie Bike

15/12 Calorie Ski Erg

200 Meter Run

20 Shuttle Runs (10 Meters)
FRONT SQUATS

15 Double Dumbbell Front Squats