CrossFit Ballwin – CrossFit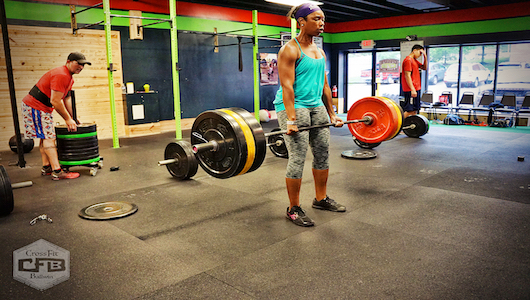 Be Strong.
Warm-up
:30 Seconds

Easy Bike

Active Spidermans
Medium Bike

Push-up to Down Dog
Faster Bike

Air Squats
2 Rds Barbell Warm-Up

5 Good Mornings

5 Back Squats

5 High Muscle Clean

5 Strict Press

5 Stiff-Legged Deadlifts

5 Front Squats
1 Minute Child Pose

:30 sec Wrist Stretch
Metcon
Teams will work through these three movements together, breaking up repetitions as needed. Athletes must complete all repetitions at the bike before moving to the power snatches and so on. The number of reps will drop each round, but the weight will increase. These should be weights that athletes are capable of completing at least 27-21-15-12-9 repetitions unbroken respectively when fresh. Teams can use multiple bars if athletes plan on using different weights. If all athletes are using the same loads, use one barbell and add weight following the thrusters. This workout is for time, but will be capped at 30 minutes.
Metcon (Time)
Teams of 3:

For Time (30 Minute Cap):

65/45 Cal Bike

75 Power Snatches

75 Thrusters (75/55)

65/45 Cal Bike

60 Power Snatches

60 Thrusters (95/65)

65/45 Cal Bike

45 Power Snatches

45 Thrusters (115/80)

65/45 Cal Bike

30 Power Snatches

30 Thrusters (135/95)

65/45 Cal Bike

15 Power Snatches

15 Thrusters (155/105)