CrossFit Ballwin – CrossFit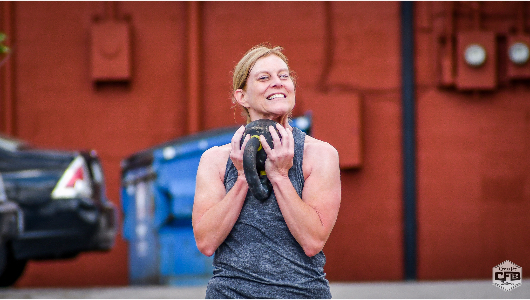 Daily Mindset
"Seek not good from without; seek it within yourselves, or you will never find it." – Epictetus

When something goes right, we're relatively quick to point to actions we took to get there. But when something goes wrong, it's all too easy for us to do the opposite. To play the "blame game", where we're using external events as excuses.

A core tenant of Mental Toughness is responsibility. To accept that we played a role. But the purpose is not to blame ourselves or throw a pity party. The purpose is that it gives us options.

When we take responsibility and look within, we now are in control. We can now focus on the moves to make to put ourselves into better position. It opens our eyes to the path forward. If we do the opposite however, and blame the externals, we have surrendered control. We won't have any control, as the story we're telling ourselves is that outside events determine my path.

Responsibility is a weapon. And it only comes from within.
Warm Up
Get Hot / Mobility

Run 100m

:30 Squat Hold

Run 100m

:30 Toe Touch and Jump

Run 100m

:30 Active Samson Stretch

Run 100m (build up speed across the 200)

:30 Push-Ups to Down-Dog
Strength & Skill
Focus: The Hips & Knees Glue the Heels.
Wall Balls – Focus on the knees during the squat

Dumbbell Snatch – Focus on hips and knees when load is on the floor
Metcon
"GO FETCH" (Time)
For Time:

50 Wall Balls (20/14)

800 Meter Run

50 Alternating Dumbbell Power Snatches (50/35)

800 Meter Run

50 Alternating Dumbbell Power Snatches (50/35)

800 Meter Run

50 Wall Balls (20/14)
MODIFICATION #1

For Time:

50 Wallballs (14/10)

800 Meter Run

50 Alternating Dumbbell Power Snatches (35/25)

800 Meter Run

50 Alternating Dumbbell Power Snatches (35/25)

800 Meter Run

50 Wallballs (14/10)
MODIFICATION #2

For Time:

30 Wallballs (10/6)

400 Meter Run

30 Alternating Dumbbell Power Snatches (25/15)

400 Meter Run

30 Alternating Dumbbell Power Snatches (25/15)

400 Meter Run

50 Wallballs (10/6)
After Party
2:00 Recovery

200m Group Walk, Stretch, and Chat
BEYOND THE 60

[Designed for members wanting a little more – to be completed outside of the 60-minute class]

Sandbag Work: 4 Sets for Quality

100' Forward Carry

10 Squats

100' Reverse Carry

10 Squats

10 Cleans
Modifications
WALL BALLS

Decrease Load

Decrease Reps

Squat Jumps

Goblet Squats

Single Dumbbell Thrusters

Push Presses
RUN

Decrease Distance

1000/800m Row

50/35 Calorie Bike
DUMBBELL SNATCH

Decrease Load/Reps

From the Hang

Odd Object Ground to Overhead

Kettlebell Swings

Slam Balls