CrossFit Ballwin – CrossFit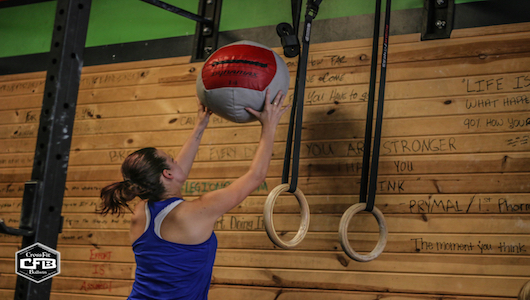 Rebekah Sillman
Warm-up
Burgener Warm-up (No Measure)
BURGENER WARM-UP:

1. Down and "Finish"

2. Elbows High and Outside

3. Muscle Snatch

4. Snatch Lands at 2″, 4″, 6″

5. Snatch Drops
SKILL TRANSFER EXERCISES:

1. Snatch Push Press

2. Overhead Squat

3. Heaving Snatch Balance

4. Snatch Balance without a dip

5. Snatch Balance with a dip
Strength & Skill
Plate Pinch (6 Rds, increasing in weight)
Walk 60 ft., pinching plates for grip control.
Utilize bumper or cast iron plate. This movement is to build finger grip strength. Try to complete without dropping.
Chin-Ups (6 sets of 8-10 Reps)
Metcon
Metcon (AMRAP – Rounds and Reps)
10 AMRAP:

3 Muscle-Ups

5 Thrusters
Bar Weights:

Rx+ 155/105

Rx 135/95

Sc 95/65
**Scaling for MU's: Coaches us your best discretion for the ability and progression of each athlete in class. It's ok if each athletes scaling is different.