CrossFit Ballwin – CrossFit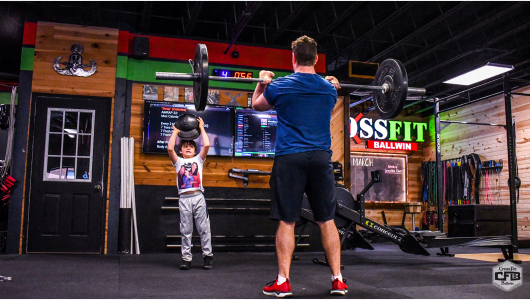 Daily Mindset
"Don't wait for your turn. It's always your turn." – Seth Godin

The perfect moment will never come.

We want to acknowledge a thousand-year-old tendency that we have… that of protection. In an attempt to stay "safe", the human mind will resist change. And will attempt to convince itself that the time is not right. That the conditions are not "favorable enough". The laundry list grows.

It starts with awareness. Being conscious that this "resistance" is self-driven.

It ends with action, as it is indeed your turn.
Warm Up
30 Seconds Each

Jumping Jacks

Glute Bridges

Lateral Hops Over Barbell

Alternating Bird Dogs

Max Height Vertical Jumps (In Place)

Down Dog

Single Unders

Active Samson

Double Taps

Jumping Air Squats
Barbell Warmup

5 Good Mornings

5 Back Squats

5 Elbow Rotations

5 Strict Press & Reach

5 Romanian Deadlifts

5 Front Squats
Mobility
Calf Stretch on Post: 30 Seconds Each Side

Pigeon Post + Wrist Stretch: 1 Minute Each Side
Strength & Skill
Power Clean & Double Unders:

1. Target
Weightlifting
Barbell Cycling – Power Cleans (3 Rounds for weight)
15-10-5 Reps:

Unbroken Power Cleans
-No break in reps during the sets

-The goal is learn how to cycle it

-Choose weights that are just outside your comfort zone for each rep number (not too light, not to heavy, but just right)
Metcon
"Power Play" (Time)
AMRAP 10:

1 Power Clean (155/105)

30 Double Unders

2 Power Cleans (155/105)

30 Double Unders

3 Power Cleans (155/105)

30 Double Unders

…

Add 1 Power Clean Per Round
After Party
Ring Muscle-ups

5 Sets:

30% Max Ring Muscle-ups

Rest as Needed Between Sets
Modifications
POWER CLEANS

Double Dumbbell Power Cleans (Climb By 3's)

Single Dumbbell Power Cleans (Climb By 6's)
DOUBLE UNDERS

Reduce Reps

Double Taps

Single Unders (45)

30 Second Time Cap