CrossFit Ballwin – CrossFit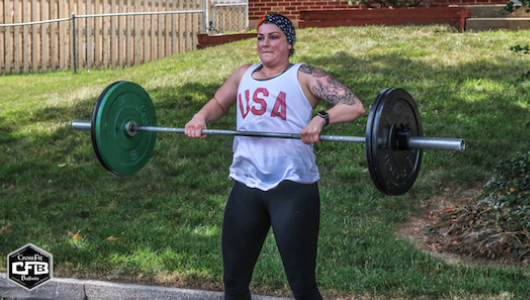 Alexa Joly
Warm-up
10 Minute Kettlebell Warm Up (No Measure)
Each movement is 60 seconds

-Single Side KB Swing (Left)

-Lunge (Right)

-Clean & Press (Left)

-Single Side KB Swing (Right)

-Lunge (Left)

-Clean & Press (Right)

-Turkish Getup (Left)

-Figure 8's (Front Pass)

-Turkish Getup (Right)

-Figure 8's (Back Pass)
Strength & Skill
EMOM 12:

EVEN – Handstand Progression

ODD – 25 Russian KB Swings
EVEN: Handstand Hold (30 sec hold every EVEN min)
L1 – Pike hold (ensure arms pressed out w/ chest/nose pressing towards box)

L2 – Wall walk up (ensure same pressing positions as L1)

L3 – Handstand hold in a strict Hollow Body position. Look for the least amount of wall contact, while remaining stable.

L4 – Solid Hollow Body Position as L3, work on Shoulder taps or just just shifting a hand from the floor.
ODD: 25 Russian KB Swings (Weight)
Find a hard but doable weight that can be completed with unbroken reps.
25 reps every ODD min

Focus on hinging at the hip, AKA..doing it properly.
Metcon
Metcon (AMRAP – Rounds and Reps)
11 Ladder:
4 KB Snatch

8 Double Unders

8 KB Snatch

16 Double Unders

12 KB Snatch

24 Double Unders

16 KB Snatch

32 Double Unders

20 KB Snatch

40 Double Unders

24 KB Snatch

48 Double Unders

…Continue increasing 4 Reps on KB Snatch & 8 reps for Double Unders
KB Snatch Wt:

Rx+ 70/44

Rx 53/35

Sc Wt: 35/26-18
KB Snatch is not from the floor, but is a single side swing caught overhead. See Video:

https://youtu.be/g3c73NahdjU