CrossFit Ballwin – CrossFit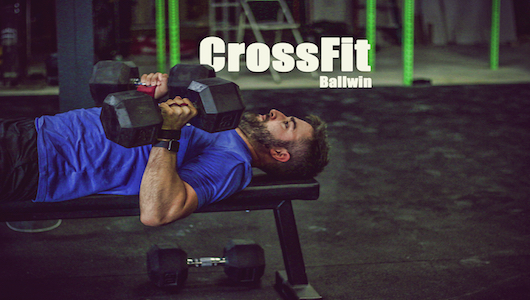 Andy Joly
Warm-up
General Warm-Up

30 Seconds Each Movement

– Jumping Jacks

– Active Spidermans

– Active Dive-bombers

– Air Squats

**Repeat Again
With Medicine Ball:

• 5 Front Squats

• 5 Push Press

• 5 Thrusters

• 5 Wall Balls
With Barbell:

5 Good Mornings

5 Back Squats

5 Elbow Rotations

5 Strict Presses

5 Stiff-Legged Deadlifts

5 Front Squats
Mobility
Medicine Ball Thoracic Opener – 2:00

**Opening up overhead position for all the barbell work to come.
Strength & Skill
A heavy is the load an athlete can move with *exceptional* form. Imagine the athlete is going to be videotaped on CrossFit.com as a movement demo.
Snatch Balance (Build to Heavy Single)
Overhead Squat (Build to Heavy Single)
Squat Snatch (Build to Heavy Single)
Metcon
Snatch weight should be something that the athlete could go unbroken for 15+ reps, when fresh. The Wall Ball weight is heavier than normal & should allot for a good squat stimulus. Although challenging, all WB reps should go unbroken.
Strategy: It will be easy to get sucked into wanting to go all out on the snatches at the beginning, but find a rep tempo that won't leave you gasping for air 2-3 min into the workout. Small sets based on tempo time might be your best bet.
Metcon (AMRAP – Reps)
AMRAP 7:

Power Snatch (115/80) EMOM: 7 Wall Balls (30/20)
**Score is total number of snatches.