CrossFit Ballwin – CrossFit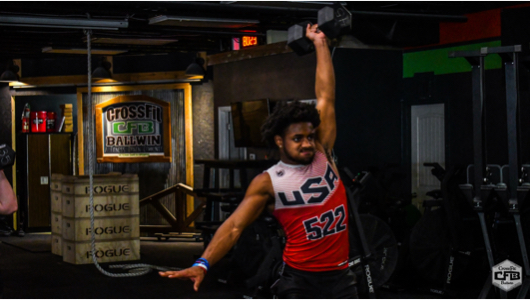 Daily Mindset
"If you want to improve, be content to be thought foolish, and stupid." – Epictetus

If there's one thing we can guarantee ourselves, it's that we're going to make mistakes. We're going to fall flat on our face and embarrass ourselves. It's just part of the way.

But if we promise ourselves one thing, everything changes. The promise to uphold the willingness to learn.

To take the failure from "this isn't for me" and translate it into "I'm not good enough yet". It's never a challenge of if we can do it or not… but rather a challenge of how bad do we want it. How hard we'll work for it. We can sit and wallow, or we can meet fire with fire. To pick up the pieces, binding and mending them together, to ultimately make them far stronger than before.
Warm Up
30 Seconds Each

Jumping Jacks

Knuckle Drags

Active Samson

Push-up to Down Dog

Arch Hold

Hollow Hold

Straight Leg Sit-ups

Single Unders

Slow Air Squats

Double Taps
Barbell Warmup

5 Good Mornings

5 Back Squats

5 Elbow Rotations

5 Strict Press & Reach

5 Romanian Deadlifts

5 Front Squats
Strength & Skill
Review "Up & Down for each movement.
Weightlifting
Push Jerk (5-4-3-2-1 reps)
– Pull from rack

– Few warmup sets before

– 5 working sets, building up each set
Metcon
"Divide & Conquer" (AMRAP – Rounds and Reps)
AMRAP 15:

30 Double Unders

15 Push Jerks (135/95)

30 Double Unders

15 Toes to Bar
After Party
Gymnastics Conditioning

Every 2:00 x 4 Rounds:

5 Strict Chest to Bar Pull-ups

10/8 Calorie Bike

5 Bar Muscle-ups

Score is Slowest Round
Modifications
PUSH JERK

15 Double Dumbbell Push Jerks

20 Single Dumbbell Push Jerks (10 Each)
TOES TO BAR

Reduce Reps

Feet as High as Possible

Knees to Elbow/Chest/Waist

Toe Raises

30 AbMat Sit-ups
DOUBLE UNDERS

45 Single Unders

30 Seconds of Practice

Reduce Reps of Double Unders

30 Double Taps