CrossFit Ballwin – CrossFit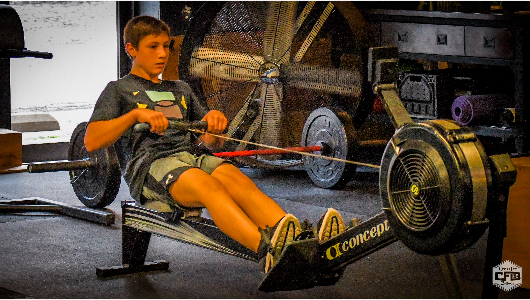 Daily Mindset
"I would rather die of passion than boredom." – Vincent Van Gogh

There are times in our lives, whether it be during training, at work, or at home, where we question the choices we've made. They arrive shortly after we make an important decision. A form of "buyers remorse", where we wonder if we're on the right path. As humans, that's what is safe to us, and we seek it out… knowing with certainty, in uncertain times, that we're on the best path forward.

But… do we really?

Think back to a moment of uncertainty. Think of the first day we first talked to our significant other. The first time we went on a roller coaster ride. The first time we walked into a CrossFit gym.

Uncertainty makes us feel alive. Those moments are etched into us forever, and are some of our fondest memories. If everything was known, expected, and pre-determined, life would be so horribly boring. It wouldn't be a life at all. Where others may run from uncertainty, let's embrace it for what it is, and create the life of memories we'll look back on with pride.
Warm-up
Activate/Get Hot

Run 200m

:30 Lunge to Pass Through

:30 Knuckle Draggers

Run 100m

:30 PVC Cuban Press

:30 PVC Good Mornings (use PVC not barbell)
Strength & Skill
SPECIFIC WARM-UP [10:00-20:00]

FOCUS: THE BURGENER SNATCH WARM-UP – "Connecting the progression to the purpose"
Burgener Warm-Up (No Measure)
1. Down and "Finish"

2. Elbows High and Outside

3. Muscle Snatch

4. Snatch Lands at 2″, 4″, 6″

5. Snatch Drops
Weightlifting
Metcon (5 Rounds for weight)
Power Snatch:

– 10 minute E2MOM: 2-2-2-2-2

– Increase loads across each set

If newer, increase reps to 5 at light loads

– Touch & Go

– Score = Log all 5 lifts. Failed attempts count.
Power Snatch (Input the Heaviest two )
Metcon
"REMAIN CALM" (AMRAP – Reps)
[COMPETE/TRAIN]

AMRAP 10:

4 Rounds:

30 Air Squats

200 Meter Run

In Time Remaining:

Max Power Snatches (115/85)

Score = Number of power snatches completed at 10:00
[SWEAT]

AMRAP 10:

4 Rounds:

30 Air Squats

200 Meter Run

In Time Remaining:

Max Power Snatches (85/65)
After Party
Stretch

1:00 Foam Roll – Back

1:00 Child's Pose

1:00 Figure-4 (each side)
BEYOND THE 60

3 Sets For Quality

12 Bulgarian Split Squats (Each Leg)

8 Weighted Sit-ups
Modifications
AIR SQUAT

Decrease Reps

Define Range of Motion (Squat to a Target)
RUN

Decrease Distance

250/200m Row

200/180m Ski

500/450m Bike
POWER SNATCH

Decrease Load

Dumbbell Power Snatch