CrossFit Ballwin – CrossFit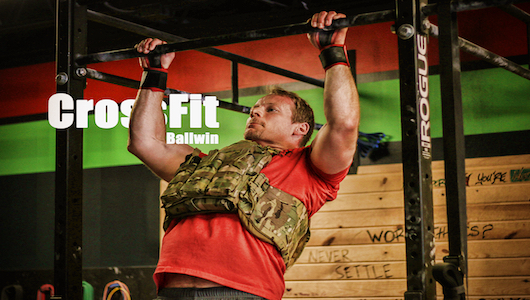 Jeffie Farris
Warm-up
Row / Calisthenic Warm up

The goal of the warm up is to bring the body temperature up and move the athletes though basic ranges of motion.
• 30s Slow Row + 30s Active Spidermans

• 30s Moderate Row + 30s Seconds Slow Air Squats

• 30s Moderate/Fast Row + 30s Seconds Active Dive-bombers

*Repeat once more, same work flow.
Mobility
Focusing today on front rack position and squat mobility.

• Stretch #1 – Couch Stretch, 1:00 on each side

• Stretch #2 – Front Rack Floor Stretch, 2:00 total
Metcon
-The stimulus today is light and fast.


-We are looking for a thruster barbell that is, without question, unbroken on every set. In other words, a thruster weight that can be completed for 30+ repetitions unbroken when fresh.
Metcon (Time)
Complete for Time:

3 Rounds of the "Seven Complex"

50/35 Calorie Row

3 Rounds of the "Seven Complex"


50/35 Calorie Row


3 Rounds of the "Seven Complex"
**1 Round of the "Seven Complex"
 7 Thrusters(75/55)


7 Pull-Ups


7 Burpees