CrossFit Ballwin – CrossFit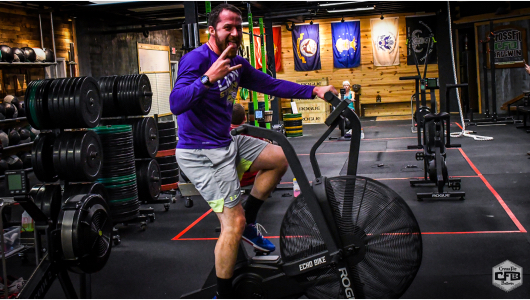 Daily Mindset
"I was complaining I had no shoes, until I met a man who had no feet." – Confucius

A short story to share.

A man walked into a shop to order some flowers to be sent as a gift to his mother, living 200 miles away.

As he got out of his car he noticed a young girl sitting on the curb sobbing. He asked her what was wrong and she replied, "I wanted to buy a red rose for my mother. But I only have seventy-five cents, and a rose costs two dollars." The man smiled and said, "Come on in with me. I'll buy you a rose." He bought the little girl her rose and ordered his own mother's flowers.

As they were leaving he offered the girl a ride home. She said, "Yes, please! You can take me to my mother!" She directed him to a cemetery, where she placed the rose on a freshly dug grave.

The man returned to the flower shop, canceled the gifting order, picked up a bouquet and drove the two hundred miles to his mother's house.

At times, we can take many such relationships with our family and friends for granted.
Warm-up
400 Meters Easy
2 Rounds

30 Seconds Active Samson

30 Seconds Active Spidermans

30 Seconds Inchworm to Push-up

30 Seconds Down Dog
Mobility
Pigeon Pose + Lat Reach: 90 Seconds Each Side
Strength & Skill
Review "The Feet" for each movement.
Metcon
"Ketty" (Time)
5 Rounds For Time:

400 Meter Run

30 Kettlebell Swings (53/35)

30 Step Back Lunges
"Ketty" — Beef'd Up (Time)
5 Rounds For Time:

400 Meter Run

30 Alternating Dumbbell Snatches (50/35)

30 Single Dumbbell Box Step-ups (24″/20″)
After Party
Cool Down

10-15 Minutes of Stretching & Rolling

Recommended Targets:

Calves

Glutes

Quads

Hamstrings
Modifications
KETTLEBELL SWINGS

Single Arm Russian Dumbbell Swings

Odd Object Ground to Overhead

Single Arm Dumbbell Devil's Press

Single Arm Dumbbell Snatch
STEP BACK LUNGES

Box Step-ups
400 METER RUN

500/400 Meter Row

400/300 Meter Meter Ski Erg

25/18 Calorie Bike

30 Shuttle Runs [10 Meters]