CrossFit Ballwin – CrossFit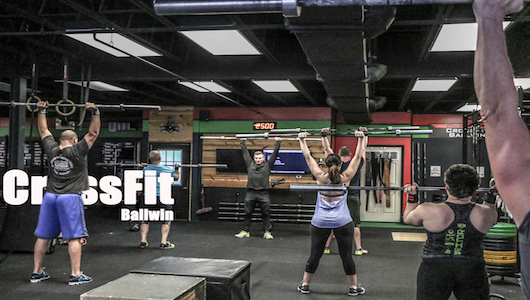 Raise the Bar.
Warm-up
Barbell Complex (light weight) (No Measure)
2 Rounds
2 Cycles w/ 6 Reps of:

-Deadlift

-Bent Row

-Hang Clean

-Front Squat

-Push Press

-Back Squat

-Push Ups
Strength & Skill
Choose the level that is applicable to your skill level. Handstands, just like everything in CF, takes proper progression. Don't rush it, but don't be afraid to venture safely with a coach.
L1: Metcon (Time)
Handstand Hold – Max Time
Work on building stability & confidence in the handstand position
L2: Handstand Push-ups (Technique/Max Reps)
Utilize abmat with even plates on both sides for Rx, scaled would be using 1 or 2+ abmats to raise up bottom position
L3: Deficit Handstand Push-ups (Max Reps)
Utilize 6″ or paralettes for deficient distance
L4: Deficit Handstand Push-ups (Max Reps)
Utilize 6″ or paralettes for deficient distance
L4+: Metcon (Distance)
Handstand Walk – Distance
Metcon
Metcon (AMRAP – Rounds and Reps)
Climb the ladder as high as possible in 13 minutes.

Rd 1

3 Thrusters (75/55)

10 Double Unders

6 Thrusters

20 Double Unders

9 Thrusters

30 Double Unders
Rd 2

**Add Weight, No Rest**

3 Thrusters (95/65)

10 Double Unders

6 Thrusters

20 Double Unders

9 Thrusters

30 Double Unders
Rd 3

**Add Weight, No Rest**

3 Thrusters (115/75)

10 Double Unders

6 Thrusters

20 Double Unders

9 Thrusters

30 Double Unders
Rd 4

**Add Weight, No Rest**

3 Thrusters (135/95)

10 Double Unders

6 Thrusters

20 Double Unders

9 Thrusters

30 Double Unders
Rd 5

**Add Weight, No Rest**

3 Thrusters (155/105)

10 Double Unders

6 Thrusters

20 Double Unders

9 Thrusters

30 Double Unders
Weight Progression:

Rx+ 95/65, 135/95, 175/115, 215/135, 255/165
Sc- 45/35, 65/45, 85/55, 95/65